Spicy Gochujang Noodles with a Confit Egg Yolk Recipe
Learn how to cook spicy Gochujang noodles with confit egg yolk using a voice-enabled recipe builder app


Introduction
About Spicy Gochujang Noodles with a Confit Egg Yolk
Recipe
 By: Sous Chef Myka
This recipe is perfect for those who love their food with a bit of spice. The Gochujang sauce adds a nice heat to the dish, while the confit egg yolk adds a creamy richness that takes it over the top.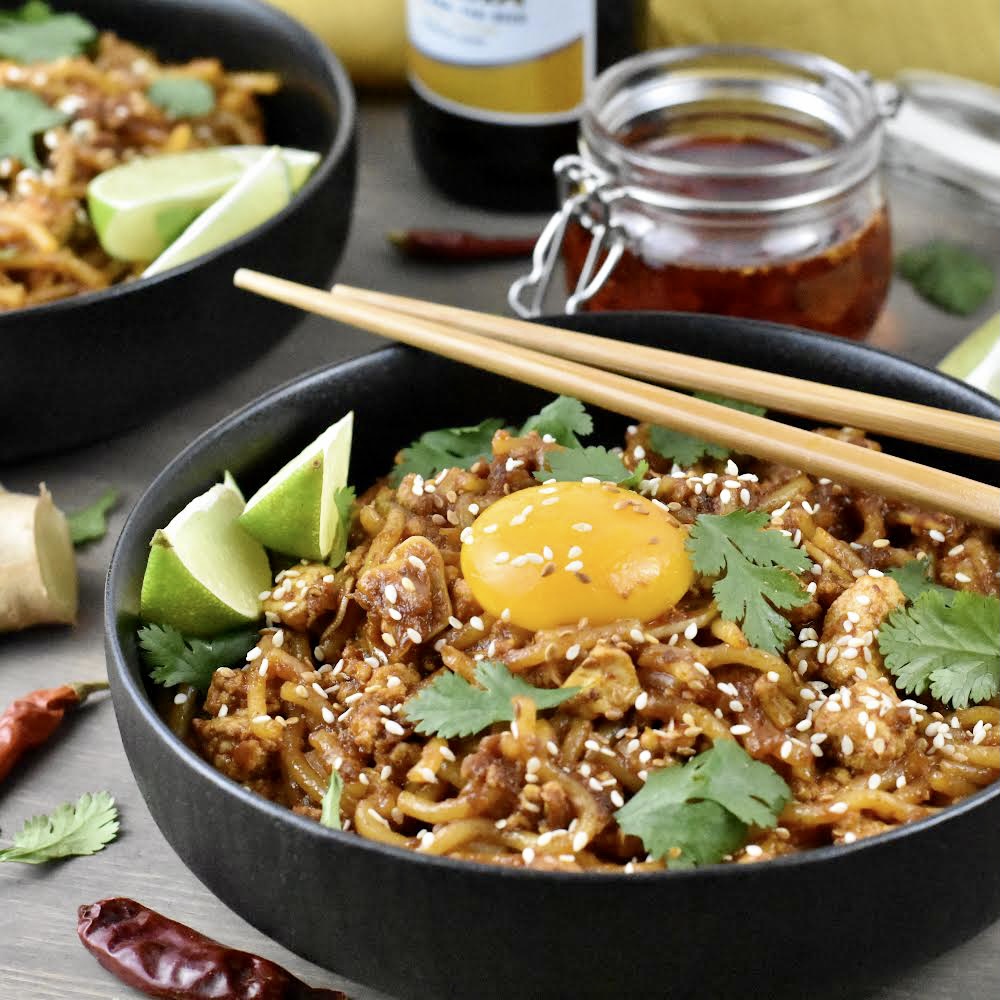 2 Egg Yolks

Olive Oil

14 Oz Tofu

1 Handful Cilantro Leaves

4 Garlic Cloves

1 Shallot

¼ Cup Gochujang

¼ Cup Soy Sauce

2 Tbsp Oyster Sauce

2 Tbsp Toasted Sesame Oil

1 Tbsp White Miso

1 Lime

1 Tbsp Brown Sugar

1 Tsp Fresh Ginger

4 Tbsp Butter

1 Cup Chicken Broth

16 Oz Rice Noodles

Sesame Seeds
How to cook spicy Gochujang noodles recipe with a confit egg yolk
Do you like your noodles spicy? These noodles are made with a delicious and fiery Gochujang sauce, and are topped with a perfectly cooked egg yolk. So good, it's sure to heat up your night! Give it a try tonight!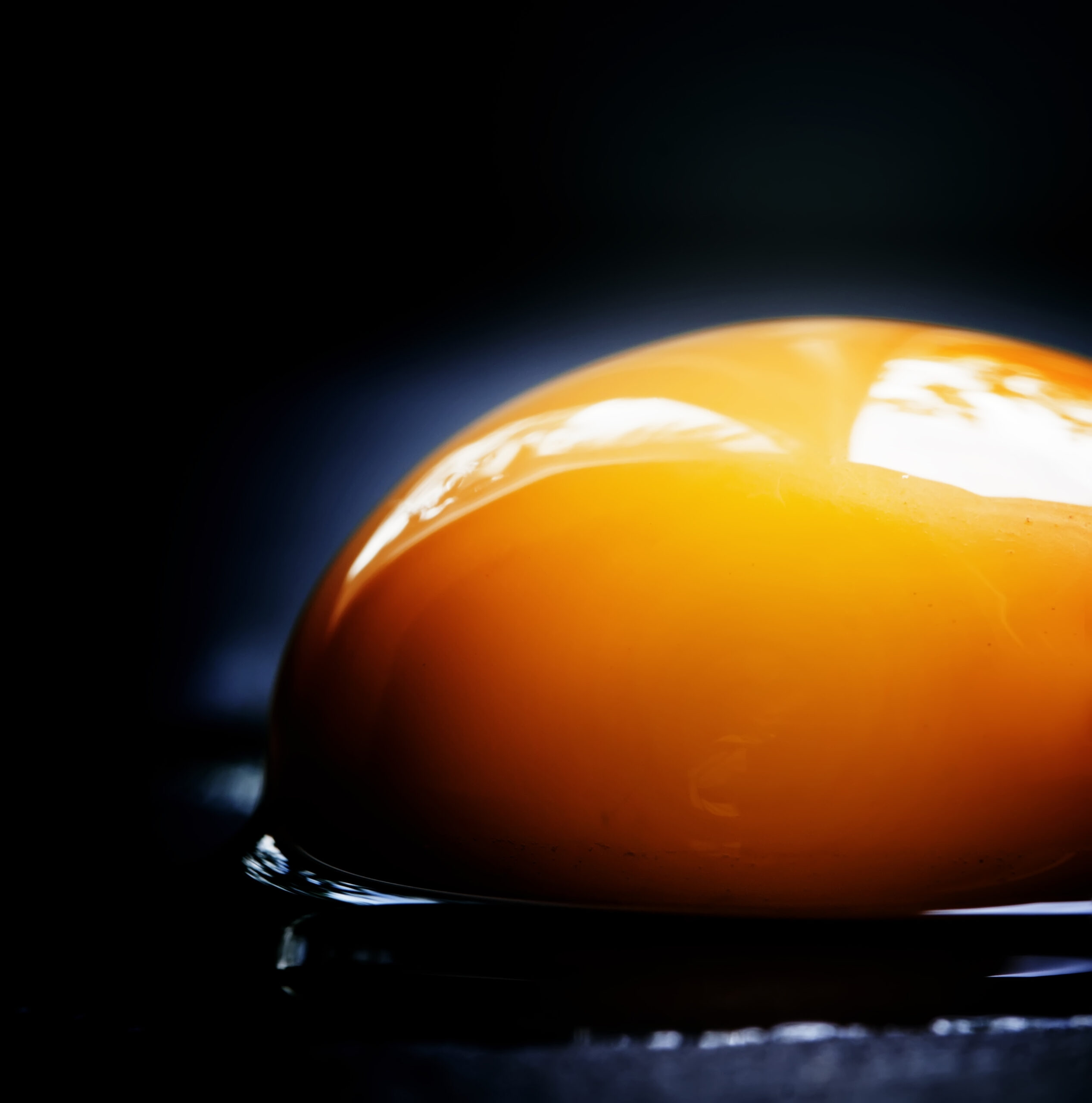 Step by Step Instructions
Step 1
If preparing the confit egg yolk, set a sous vide water bath to 135℉. If you are not including the confit egg yolk in your dish, skip to step 3.
Step 2
When water has heated, separate 2 egg yolks and gently place in a Ziplock bag. Cover with olive oil, seal and lower into the water. Let yolks cook for 1 hour.
Step 3
Drain the water from a 14 ounce package of tofu and squeeze out as much water as you can with your hands. Wrap the tofu with paper towels and weigh down to remove as much moisture as possible.
Step 4
Clean and remove a handful of cilantro leaves. Set aside.
Step 5
Thinly slice 4 garlic cloves. Set aside.
Step 6
Dice 1 shallot. Set aside.
Step 7
In a mixing bowl, combine ¼ cup of gochujang, ¼ cup of soy sauce, 2 tablespoons of oyster sauce, 2 tablespoons of toasted sesame oil, 1 tablespoon of white miso, the juice from 1 lime, 1 tablespoon of brown sugar, and 1 teaspoon of freshly grated ginger.
Step 8
Heat a large skillet over medium-high heat and add 2 tablespoons of butter. When the butter has melted, crumble your tofu into the skillet and cook, stirring occasionally until crispy. Remove the tofu from the pan and set aside on a paper towel lined plate.
Step 9
In the same pan, melt an additional 2 tablespoons of butter over medium heat. Once the butter has melted, add the shallot and garlic and saute until the shallots become translucent and the garlic is fragrant.
Step 10
Reduce the heat to medium-low. Add 1 cup of chicken broth, the gochujang sauce and 16 ounces of thick rice noodles and mix to combine. Bring to a simmer and cook until the noodles are cooked through.
Step 11
Plate the noodles. Remove the egg yolk from the water bath and place on top of the noodles.
Step 12
Garnish with sesame seeds and the cilantro leaves to serve.
Spicy Gochujang Noodles with a Confit Egg Yolk
Dietary Fiber

100%

100%

Sugar

100%

100%

Saturated Fat

100%

100%

Protein

100%

100%

Sodium 

100%

100%

Cholesterol

100%

100%

Calcium

100%

100%

Iron

100%

100%