Learn how to make this tasty salmon wellington recipe using the voice-enabled recipe builder app


Introduction
About Salmon Wellington Recipe
By: Sous Chef Myka
Salmon wellington is a delicious and easy recipe to cook for any meal. salmon fillets are wrapped in pastry dough, then baked until flaky and golden brown.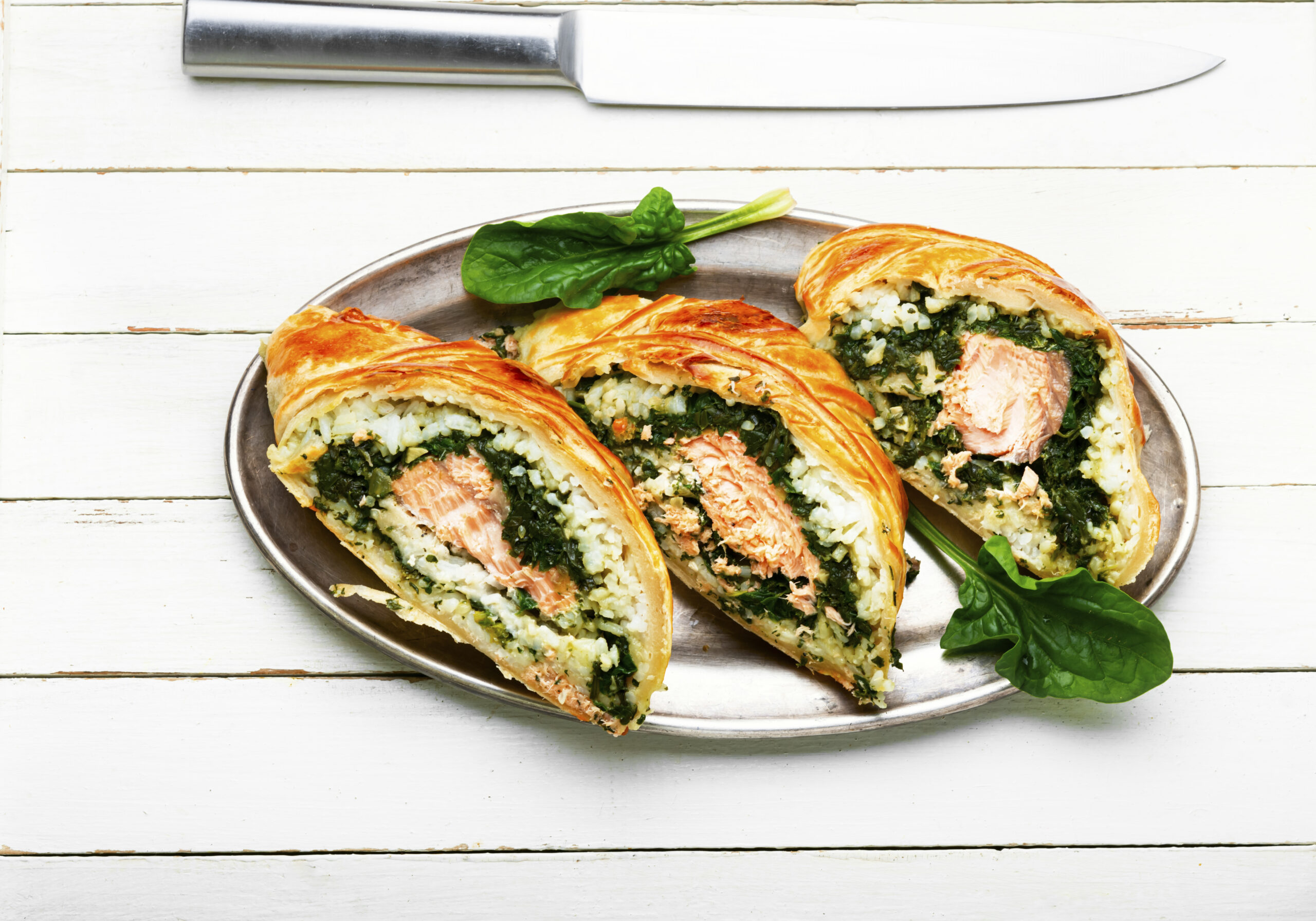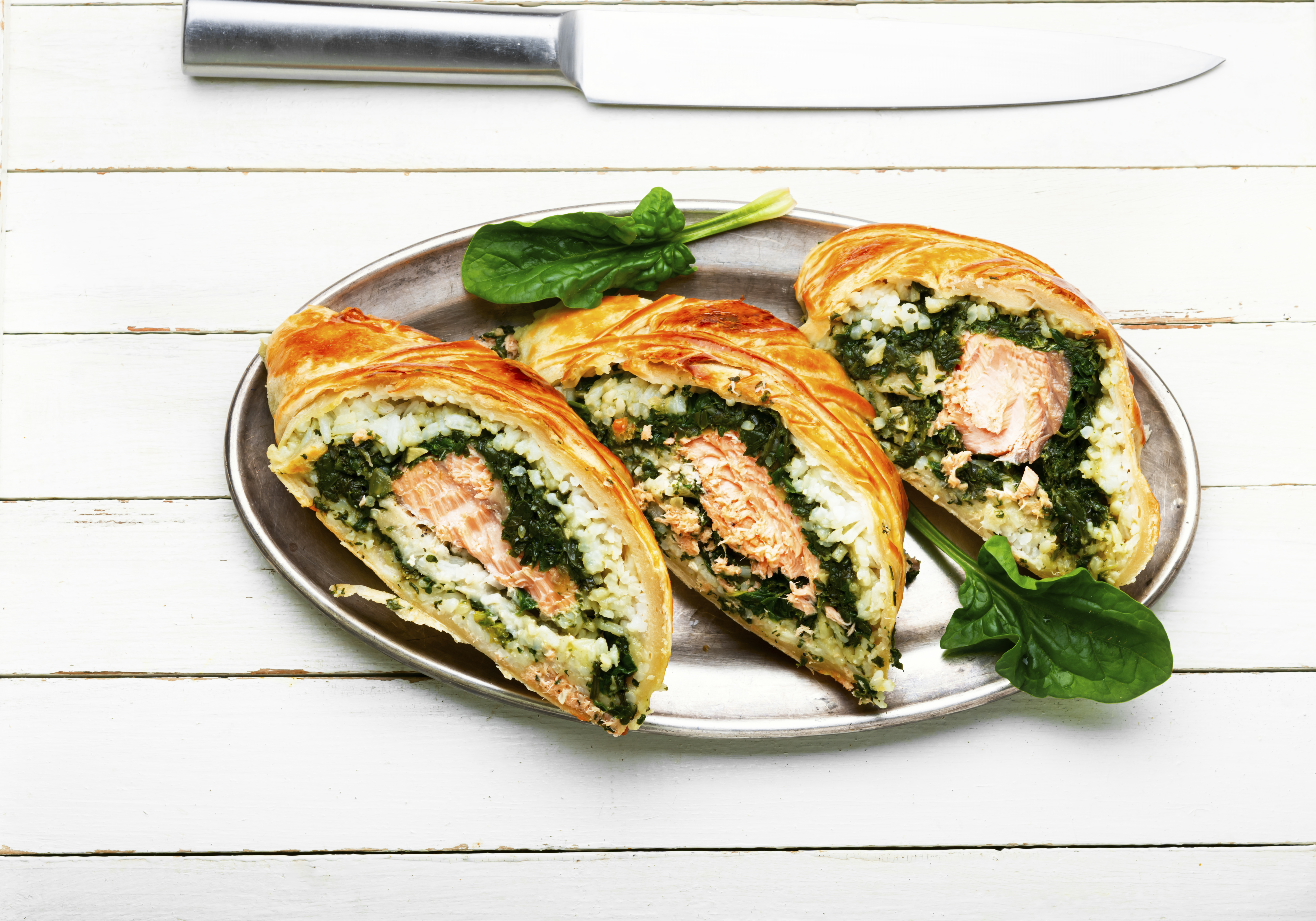 1 Box Frozen Puff Pastry
8 Oz Mushrooms
1 Shallot
1 Golden Delicious Apple
3 Tbsp Butter
Salt
Pepper
1 Tsp Fresh Rosemary
4 Oz Horseradish Cheddar Cheese
1 Tbsp Olive Oil
6 Oz Baby Spinach
4 Salmon Filets
Dijon Mustard
1 Egg
How to the create the salmon wellington recipe
This seafood dish is often served with a creamy sauce, making it even more decadent and delicious. Salmon wellington is a perfect way to impress your guests, or simply enjoy a delicious gourmet meal. Try this recipe tonight and see for yourself how delicious salmon wellington can be.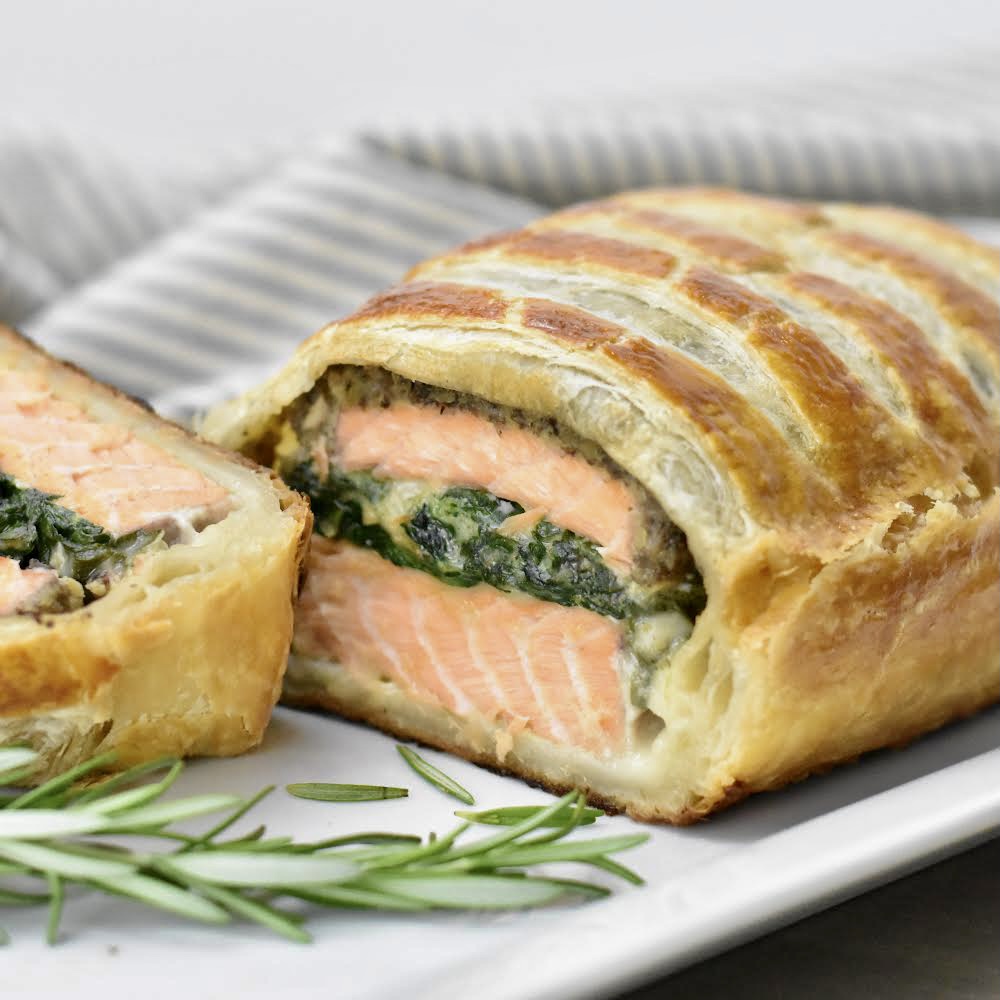 Step by Step Instructions
Step 1
Remove from freezer and thaw 1 box of frozen puff pastry sheets.
Step 2
Roughly chop 8 oz. of mushrooms, 1 shallot and 1 golden delicious apple. Place in a large food processor and process until finely minced.
Step 3
Scrape everything into a clean but old cotton towel, as this will stain material. Twist the towel around and wring out as much liquid as possible.
Step 4
Heat a large skillet over medium heat and add 2 tablespoons of butter. When melted, add the mushroom mixture and season with salt and pepper.
Step 5
Continue to cook, stirring occasionally until the liquid evaporates. In the meantime, finely chop 1 teaspoon of fresh rosemary and add to the pan, stirring to incorporate.
Step 6
When the mushrooms appear dry and begin to brown, add an additional 1 tablespoon of butter. Cook for another minute and transfer the mushroom duxelles to a small bowl and set aside to cool.
Step 7
Preheat the oven to 425℉.
Step 8
Grate 4 ounces of Horseradish cheddar cheese and set aside.
Step 9
Heat the same pan the mushroom duxelles was made in over medium-high heat and add 1 tablespoon of olive oil.
Step 10
Add 6 ounces of baby spinach and season with salt and pepper. Saute just until spinach begins to wilt and transfer to a small mixing bowl. Once cool, stir in the grated horseradish cheddar cheese.
Step 11
Place 4 filets of salmon, equal size, on a paper towel lined plate to absorb any excess liquid.
Step 12
On a cutting board, smooth out a sheet of puff pastry.
Step 13
Spoon the mushroom duxelles onto the puff pastry the same size as the salmon filet and place the salmon on top.
Step 14
Brush Dijon mustard onto the salmon and top with the spinach and cheese mixture.
Step 15
Place an additional filet on top of the spinach and fold the edges of the puff pastry over the salmon, starting with the longer sides and then the shorter ends.
Step 16
Trim any excess pastry from the ends, then fold the ends on top. Flip the puff pastry over and transfer to a baking sheet lined with parchment paper. Repeat with the remaining puff pastry sheet.
Note: You may want to use toothpicks to keep the ends of the puff pastry secure.
Step 17
In a small bowl, whisk 1 egg.
Step 18
Brush the beaten egg on the top and sides of the puff pastry. Score the top of the puff pastry with a knife, cutting shallow perpendicular lines. Brush the top of the puff pastry again with the egg wash.
Step 19
Bake for 20-25 minutes until the pastry is golden brown.
Sugars

100%

100%

Saturated Fat

100%

100%

Protein

100%

100%

Sodium

100%

100%

Cholesterol

100%

100%