Learn how to cook sailor-style mussels using the voice-enabled Myka recipe builder iPhone app

Introduction
About Sailor Style Mussels
By: Sous Chef Myka
Moules marinieres is a classic French dish of mussels cooked in white wine, garlic, and herbs. It's simple to make but incredibly delicious, and it's the perfect way to show off fresh, quality mussels.  Serve the moules marinieres with a crusty baguette and enjoy!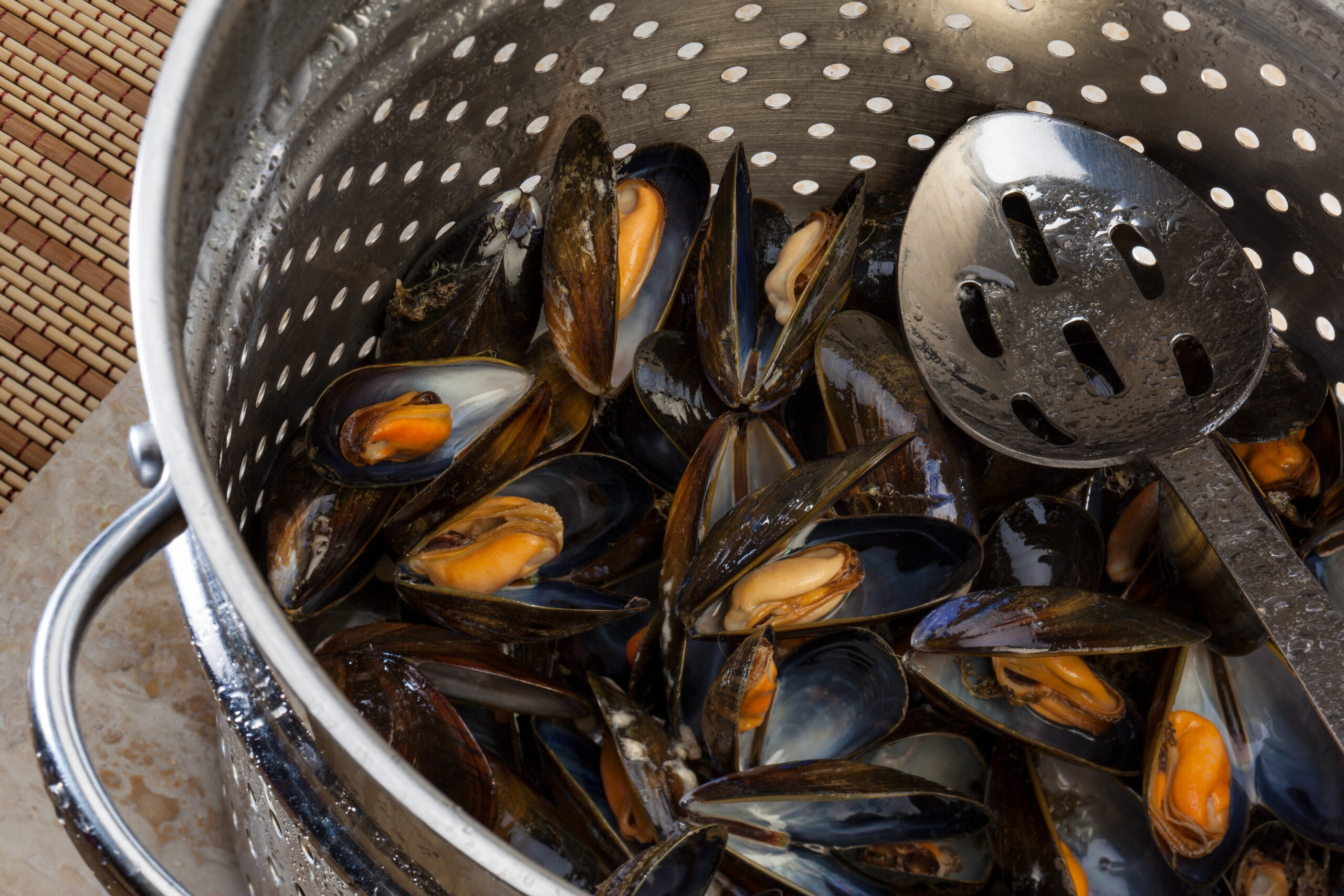 2 Lbs Mussels
¼ Bunch Of Flat Leaf Parsley
2 Shallots
3 Garlic Cloves
2 Tbsp Butter
1 Tbsp Olive Oil
1 Tbsp Mustard Seed
2 Bay Leaves
Salt to Taste
 Black Pepper to Taste
2 Sprigs Fresh Thyme
1 Cup Dry White Wine
3 Tbsp Creme Fraiche
1 Lemon
Lemon Zest
Crusty Bread
How to prepare moules marinieres on your stove top 
A favorite dish of many seafood lovers, sailor style mussels are a quick and easy meal to prepare. Traditionally, they are cooked in a white wine sauce, but they can also be made with a tomato-based sauce or simply steamed. The key to making delicious sailor style mussels is to start with fresh, high-quality shellfish. Once you have your mussels, the recipe is simple: just sauté some garlic and shallots in a bit of olive oil, add the mussels and your chosen cooking liquid, and let everything simmer until the mussels are cooked through. Serve with some crusty bread for sopping up the delicious sauce, and enjoy!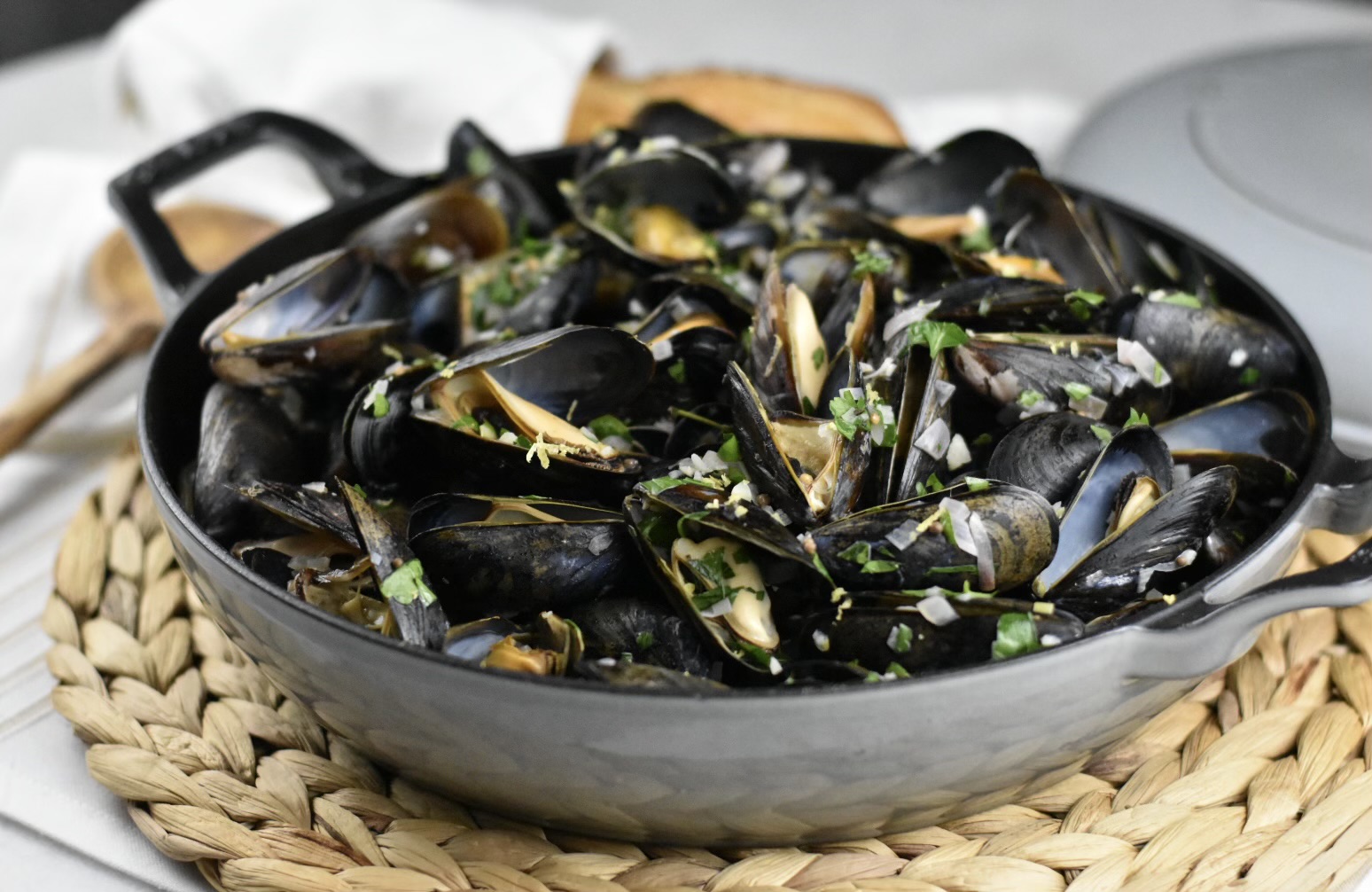 Step by Step Instructions
Step 1
Clean 2 pounds of mussels under cool running water and remove the beard by pulling the strands back towards the hinge of the mussel.
Step 2
Clean and mince ¼ bunch of flat leaf parsley, leaves only. Set aside.
Step 3
Finely dice 2 shallots, roughly ½ cup worth and set aside.
Step 4
Finely mince 3 cloves of garlic and set aside.
Step 5
Melt 1 tablespoon of butter and 1 tablespoon of Olive oil in a large saucepan over medium heat.
Step 6
Add 1 tablespoon of mustard seeds, the diced shallots, the minced garlic and 2 bay leaves to the saucepan.
Step 7
Season heavily with salt and black pepper and cook until the shallots are soft, approximately 10 minutes.
Step 8
Increase heat to high, add 2 sprigs of fresh thyme and 1 cup of dry white wine. Bring to a boil for about 2 minutes and add the mussels. Stir the mussels, cover with a lid and cook. Shake the pan occasionally until the mussels have opened, approximately 6-7 minutes.
Step 9
Once mussels have opened, transfer them to a bowl with a slotted spoon, discarding any mussels that have not opened. Remove the bay leaves and thyme.
Step 10
Remove the liquid from the heat and stir in 1 tablespoon of butter and 3 tablespoons of creme fraiche.
Step 11
Return the mussels to the pot and add the minced parsley and the juice from 1 lemon. Stir to combine.
Step 12
Transfer the mussels and liquid to a serving bowl. Finely grate lemon zest on top. Serve immediately with your favorite crusty bread for dipping.
Sailor style mussels are nutritious.
Vitamin B12

100%

100%

Iodine

100%

100%

Selenium

100%

100%

Omega 3 EPA/DHA

100%

100%

Iron

100%

100%

Riboflavin (B2)

100%

100%

Myricetin

100%

100%

Lutein and zeaxanthin

100%

100%