Learn how to make this Mediterranean Tuna Salad recipe with the voice-activated cookbook iPhone app, Myka.


 Introduction
Mediterranean Tuna Salad

By: Sous Chef Myka
Just about nothing is as reliable as a fresh tuna salad, especially in the warmer months. This Mediterranean Tuna Salad packs some extra flavor and has plenty of crunch, thanks to shredded carrots and chopped Calabrian peppers.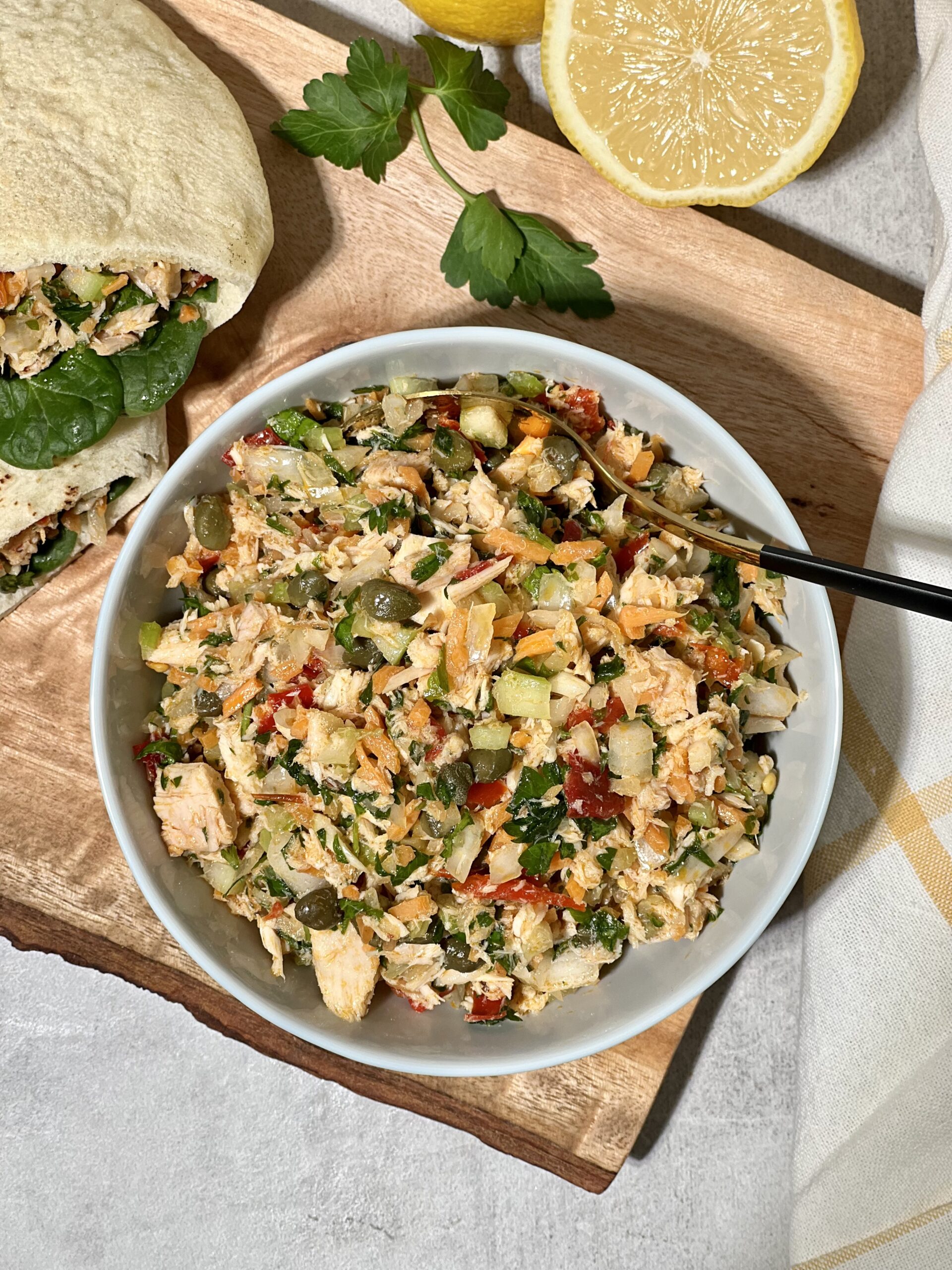 10 oz canned tuna

2 celery stalks

¾ cup fresh flat leaf parsley

¾ cup white onion

¾ cup shredded carrots

3 tablespoons capers

2 tablespoons chopped Calabrian peppers

1 teaspoon kosher salt

¼ teaspoon garlic powder

¼ cup olive oil

Juice of ½ lemon



Mediterranean Tuna Salad
Hi Chefs, Myka here 👋

The humble tuna salad is a staple in the Myka refrigerator all-year-round, but it's even more appealing in the summertime. Ready in a pinch and with no cooking required, this Mediterranean Tuna Salad is crispy, refreshing and flavorful.

To start, drain as much water as you can from a can of tuna, and put it in a mixing bowl. Break it up with a fork. Then, dice celery and white onion, chop your parsley, and add those to your bowl. Throw in your shredded carrots, then, drain the capers and add those as well. After that, add your chopped Calabrian peppers, before going in with your seasonings (we like salt, garlic powder, olive oil, and lemon juice).

Give it a thorough mix, and serve with your favorite bread or crackers.

Happy cooking!
Step by Step Instructions
Step 1
Drain as much water as you can from 10 ounces of canned tuna and place in a large mixing bowl. Break the tuna apart with a fork and set aside.
Step 2
Finely dice 2 celery stalks and add to the bowl.
Step 3
Finely chop ¾ cup of fresh flat leaf parsley and add to the bowl.
Step 4
Finely dice ¾ cup of white onion and add to the bowl.
Step 5
Add ¾ cup of shredded carrots to the bowl.
Step 6
Drain and add 3 tablespoons of capers to the bowl.
Step 7
Add 2 tablespoons of chopped Calabrian peppers to the bowl.
Step 8
Add 1 teaspoon of kosher salt and ¼ teaspoon of garlic powder to the bowl.
Step 9
Add ¼ cup of olive oil to the bowl.
Step 10
Juice ½ of a lemon into the bowl and thoroughly mix together.
Step 11
Serve with your favorite bread, pita or crackers.
Myka, also known as "My Kitchen Assistant," is a voice-enabled recipe builder which allows you to effortlessly follow and create recipes. You can read more about Myka's story by clicking here.