Knafeh Inspired Tart
with Fresh Fruit
Learn how to bake a knafeh inspired tart with fresh fruit  recipe with the voice-enabled recipe builder app


Introduction
About Knafeh Inspired Tart with Fresh Fruit
Recipe
 By: Sous Chef Myka
Knafeh is a cheese pastry that is popular in the Middle East. It can be made with either shredded or filo dough, and usually filled with nuts, syrup and cream. In this recipe, we've taken the flavors of knafeh and turned it into a tart with fresh fruit. The result is a delicious dessert that is perfect for any occasion!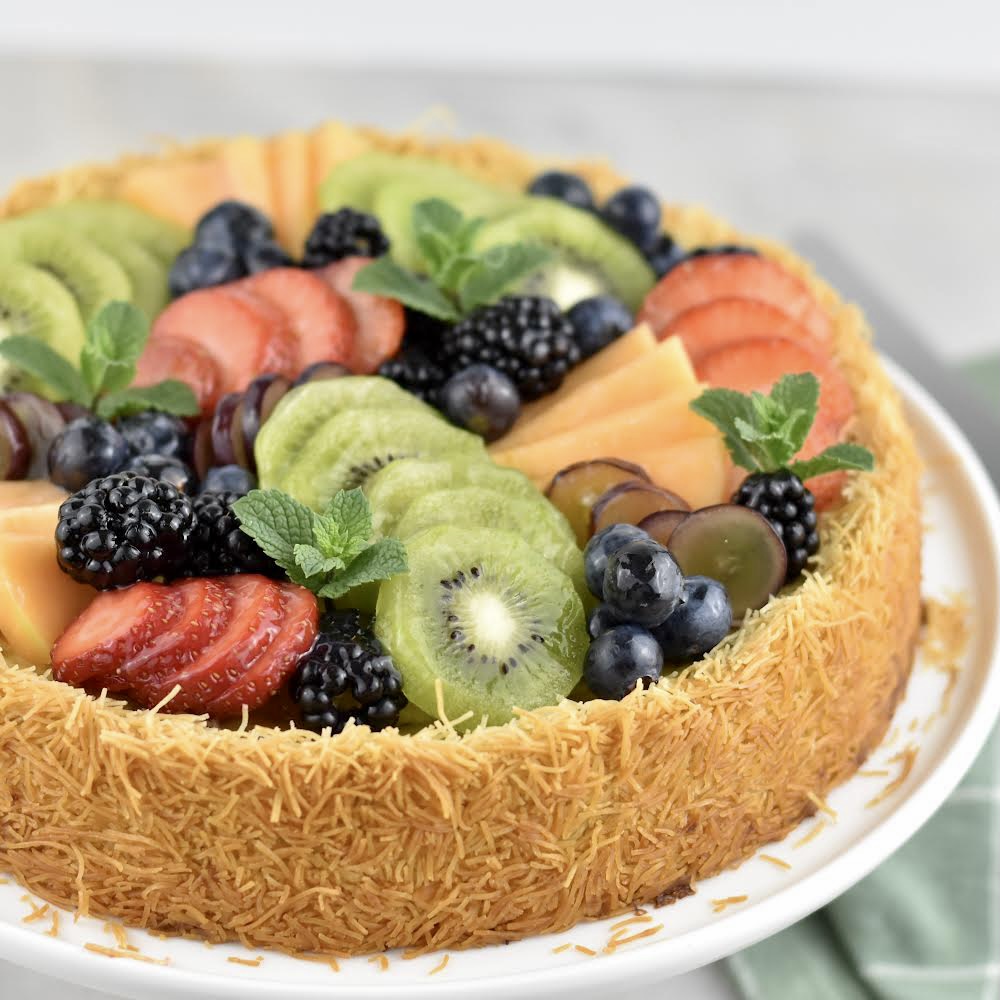 ½ Cup Butter

8 Oz. Frozen Kataifi (Shredded Phyllo Dough)

¼ Cup Pistachios

8 Oz. Mozzarella Cheese

¼ Cup Milk

15 Oz Ricotta

2 & ⅓ Cups Sugar

1 Tbsp Lemon Juice

1 Tsp Lemon Juice

1 Tbsp Lemon Zest

½ Tsp Vanilla Extract

3 Eggs

1 Pinch Salt

1 Cup Water

Fruit
How to bake a knafeh inspired tart with fresh fruit
Summertime means fresh fruit, and this Knafeh Inspired Tart with fresh fruit recipe is the perfect way to enjoy all of your favorite fruits in one delicious dish! The tart is easy to make, and it's sure to be a hit with everyone at your next gathering. So gather up some friends and give this recipe a try!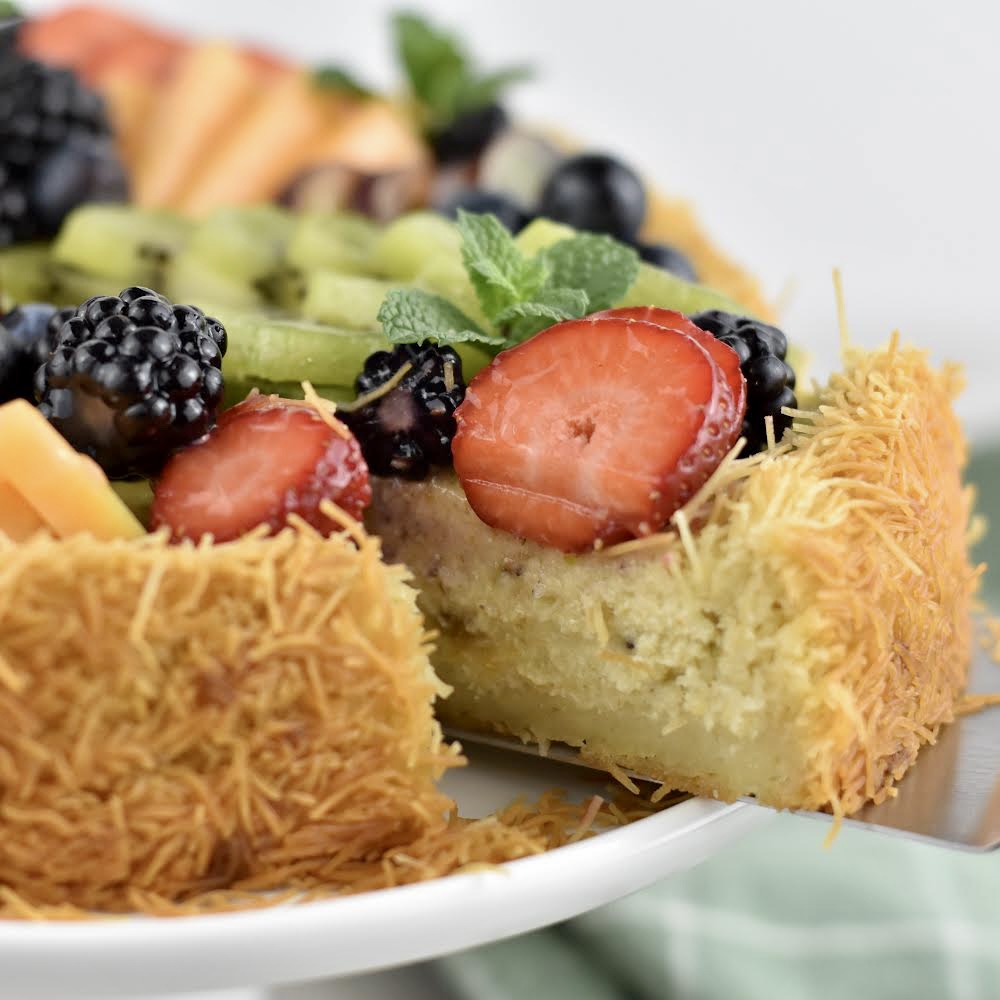 Step by Step Instructions
Step 1
Preheat the oven to 350℉.
Step 2
Warm 1/2 cup of butter in a small saucepan over medium heat until just melted, then remove from heat.
Step 3
Remove 8 ounces of frozen kataifi, also known as shredded phyllo dough, from the freezer and cut into ¾" threads. Place in a large bowl.
Step 4
Pour the melted butter on top of the kataifi and mix thoroughly with your hands, breaking up any combined chunks of kataifi.
Step 5
Grease a 9" springform pan and add the kataifi.
Step 6
Create a ½ inch thick base layer on the bottom and then create a crust layer around the outer edge, approximately 1" high. Pack tightly.
Step 7
In a food processor, add ¼ cup of pistachios and process into a powder. Place pistachio powder in a small bowl and set aside.
Step 8
Cut 8 ounces of mozzarella cheese into ½" cubes and place into the food processor.
Step 9
Add ¼ cup of milk to the same food processor and process until blended.
Step 10
In a stand mixer, add 15 ounces of ricotta, the mozzarella milk mixture and the pistachio powder.
Step 11
Additionally, to the stand mixer, add ⅓ cup of sugar, 1 tablespoon of lemon juice, 1 tablespoon of lemon zest, ½ tsp of vanilla extract, 3 eggs and 1 pinch of salt.
Step 12
Mix on medium speed until the batter is well combined.
Step 13
Pour the batter into the kataifi pie crust and smooth out the batter with a spatula.
Step 14
Place into the oven and bake for 45-60 minutes.
Step 15
While the tart is baking, in a small saucepan over medium-high heat, add 1 cup of water with 2 cups of sugar. Whisk to combine.
Step 16
Bring the saucepan to a boil. Once boiling, add 1 teaspoon of lemon juice and whisk to incorporate.
Step 17
Let the syrup continue to boil for 6 minutes, then remove from heat and set aside.
Step 18
When the tart has completed baking, remove from the oven and let cool to room temperature.
Step 19
Once the tart has cooled, unhinge and remove the springform pan.
Step 20
Top with your favorite sliced fruit and heavily drizzle the sugar syrup over the entire surface of the tart.
Knafeh Inspired Tart with Fresh Fruit
Dietary Fiber

100%

100%

Sugar

100%

100%

Saturated Fat

100%

100%

Protein

100%

100%

Sodium 

100%

100%

Cholesterol

100%

100%

Vitamin A

100%

100%

Vitamin C

100%

100%

Calcium

100%

100%

Iron

100%

100%