Honey Poached Fig and Prosciutto Flatbread
Learn how to make this Honey Poached Fig and Prosciutto Flatbread recipe with the voice-activated cookbook iPhone app, Myka.


Introduction
Honey Poached Fig and Prosciutto Flatbread
By: Sous Chef Myka
Talk about the perfect bite. This Honey Poached Fig and Prosciutto Flatbread is everything you want in a flatbread: salty from the prosciutto, sweet from the honey poached fig, savory from flavorful cheeses, and tangy from a drizzle of balsamic.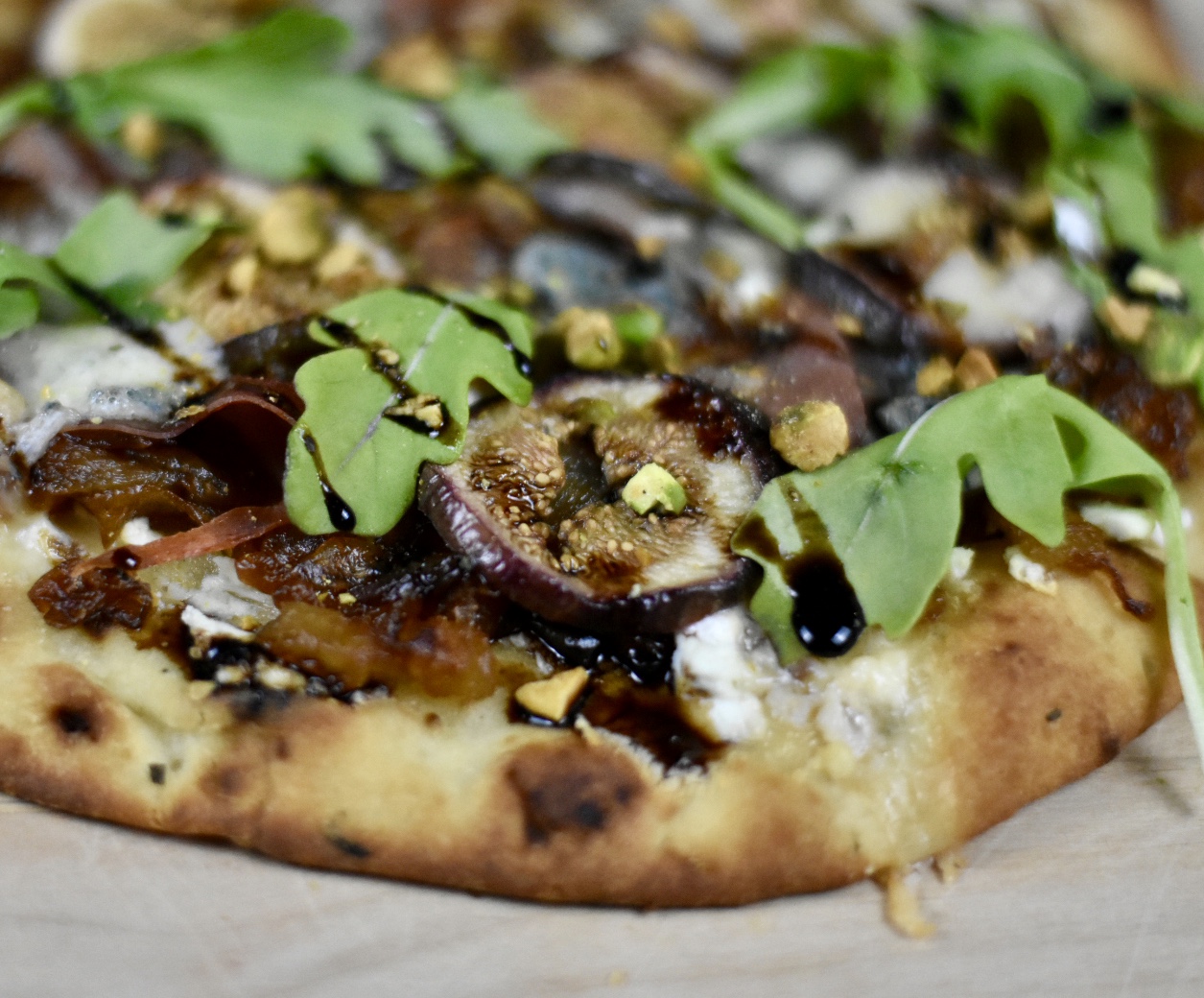 2 ½ large yellow onions

4 tbsp butter

1 cup water

3 tbsp honey

2 cardamom pods

2 fresh figs

4 tbsp balsamic vinegar

2 – 8 oz naan flatbreads

2 oz goat cheese

2 slices of prosciutto

2 oz gorgonzola

Handful of arugula

Handful of shelled pistachios
Honey Poached Fig and Prosciutto Flatbread
Hi Chefs, Myka here 👋
When it comes to ideal foods, anything with bread, cheese, and balsamic is always on top of the list for us. And this Honey Poached Fig and Prosciutto Flatbread is a delicious twist on a flatbread that you're definitely going to want to make again and again.
This simple recipe starts with freshly caramelized onions. You'll melt butter, add sliced yellow onions, and cook until they're a rich, golden brown color.
Then, you'll prepare a honey water mixture with cardamom, and will soak sliced figs while your onions cook. After that, simply take your favorite naan bread, spread with goat cheese, and top with prosciutto, honey-soaked figs and gorgonzola cheese, before baking in the oven. After baking for 10 minutes, you'll garnish with crushed pistachios.

Easy, quick, and definitely delicious.
Happy cooking!
Step by Step Instructions
Step 1
Slice 2 ½ large yellow onions into ⅛ inch thick slices.
Step 2
In a large stainless steel saucepan, melt 4 tablespoons of butter over medium-high heat until foaming. Add sliced onions and cook, stirring occasionally until translucent, about 8 minutes.
Step 3
Lower heat to medium-low and cook, stirring frequently until onions are a rich golden brown color, approximately one hour.
Step 4
While the onions are cooking, in a medium saucepan, add 1 cup of water, 3 tablespoons of honey and 2 cardamom pods and bring to a boil.
Step 5
Reduce the heat to a simmer and let the honey water reduce by half. Meanwhile, slice 2 figs into 1/16 inch slices.
Step 6
Once honey water has reduced by half, turn off the heat and add the fig slices while continuing to cook the onions.
Step 7
To prepare the honey balsamic glaze – in another small saucepan bring 4 tablespoons of balsamic vinegar and 4 tablespoons of the honey water to a boil. Reduce by half until the consistency resembles a syrup. Once complete, set aside to cool.
Step 8
When onions have cooked, remove from heat and set aside.
Step 9
Preheat the oven to 400 degrees fahrenheit.
Step 10
Take 2- 8 oz naan breads and place on a baking sheet. Spread approximately 1 oz of goat cheese over the surface of each naan.
Step 11
Top each naan bread with caramelized onions, 1 slice of prosciutto cut into bite size pieces, honey soaked figs and crumbled gorgonzola, approximately 1 ounce.
Step 12
Place the flatbread in the oven for 10 minutes.
Step 13
While the flatbread is baking, take a handful of pistachios and crush into smaller pieces.

Step 14
Remove flatbread from the oven and garnish with fresh arugula, drizzle of the honey balsamic glaze and crushed pistachios.
Step 15
Serve immediately.
 Myka, also known as "My Kitchen Assistant," is a voice-enabled recipe builder which allows you to effortlessly follow and create recipes. You can read more about Myka's story by clicking here.