Bailey's Irish Cream Soda Bread Recipe
Learn how to Bailey's Irish cream soda bread
with the
voice-enabled recipe builder app


Introduction
About Bailey's Irish Cream Soda Bread
Recipe
 By: Sous Chef Myka
We will show you how to bake a delicious loaf of Bailey's Irish cream soda bread. This bread is sure to please both your taste buds and your stomach! So, what are you waiting for? Let's get baking!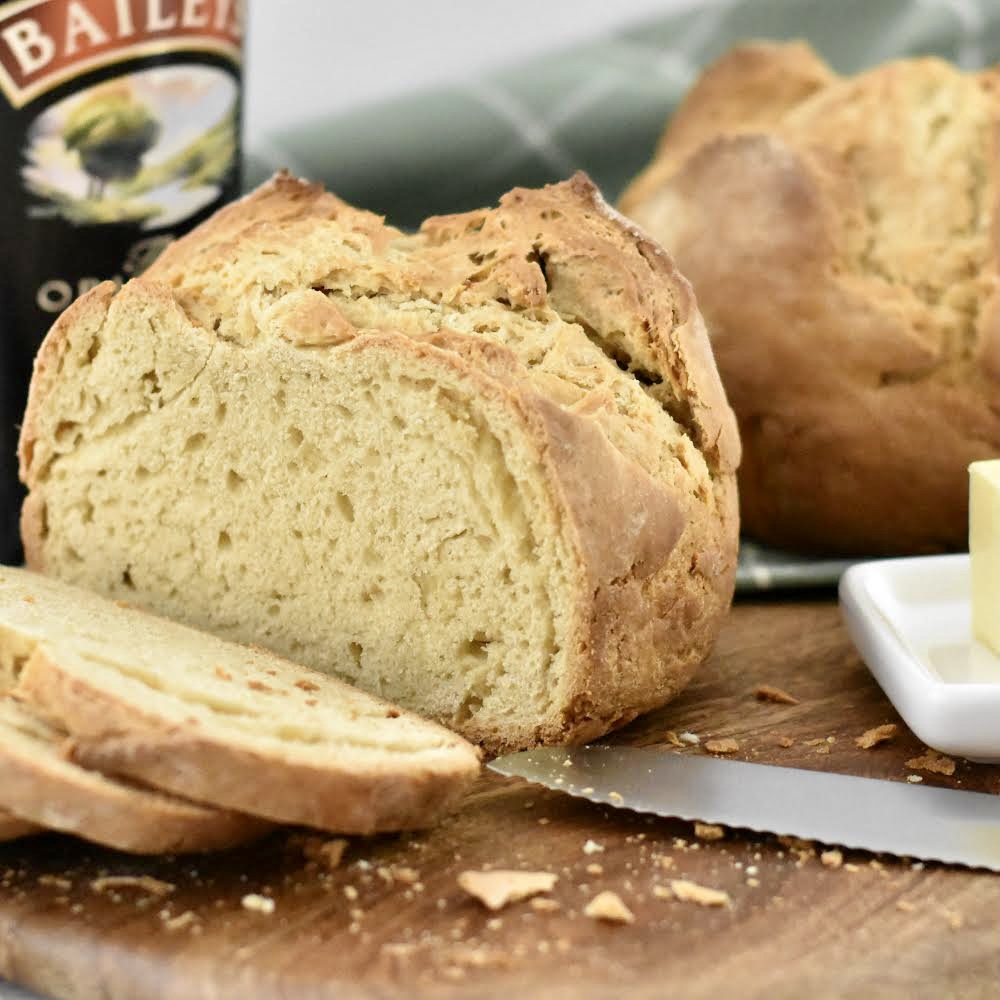 1 & ¼ Cups Buttermilk
½ Cup Bailey's Irish Cream
1 Egg
4 & ¼ Cups All Purpose Flour
3 Tbsp Sugar
1 Tsp Baking Soda
1 Tsp Salt
5 Tbsp Butter
How to bake Bailey's Irish Cream Soda Bread
Irish soda bread is one of the most popular quick breads around, and for good reason – it's delicious! This version is extra special though, because it's made with Bailey's Irish cream. Whether you're baking for a St. Patrick's Day celebration or just want something a little different, this recipe is sure to please. So get your aprons on and let's get baking!
Step by Step Instructions
Step 1
Preheat the oven to 400F.
Step 2
Line a 5 quart Dutch oven with parchment paper and place in the oven to heat.
Step 3
In a small bowl, whisk together 1 ¼ cups of buttermilk, ½ cup of Bailey's Irish Cream and 1 egg. Set aside.
Step 4
In a large bowl, add 4 ¼ cups of all purpose flour, 3 tablespoons of sugar, 1 teaspoon of baking soda and 1 teaspoon of salt. Whisk to incorporate.
Step 5
Using a pastry cutter, cut in 5 tablespoons of cold butter until the butter is ⅛" to ¼" in size.
Step 6
Pour in the buttermilk mixture and fold the dough together until it is too stiff to stir.
Step 7
Pour crumbly dough out onto a floured work surface and work the dough into a ball. Knead the dough for about 30 seconds until all the flour is moistened.
Step 8
Transfer the dough to the heated dutch oven. Using a very sharp knife, score an X onto the top and transfer back into the oven.
Step 9
Add Bake for approximately 45 minutes or until the bread has turned golden brown.
Step 10
Remove from the oven and allow to cool for 10 minutes before slicing.
Bailey's Irish Cream Soda Bread
Dietary Fiber

100%

100%

Sugar

100%

100%

Sodium

100%

100%

Cholesterol

100%

100%