Grilled Romaine Shrimp Caesar

Learn how to make this Grilled Romaine Shrimp Caesar
recipe with the voice-activated cookbook iPhone app, Myka.


Introduction
Grilled Romaine Shrimp Caesar
By: Sous Chef Myka
We have two words for you: grilled romaine. Yep, if you're not throwing this crisp lettuce on the grill, you're missing out. And when it comes in the form of this Grilled Romaine Shrimp Caesar, it's sheer perfection.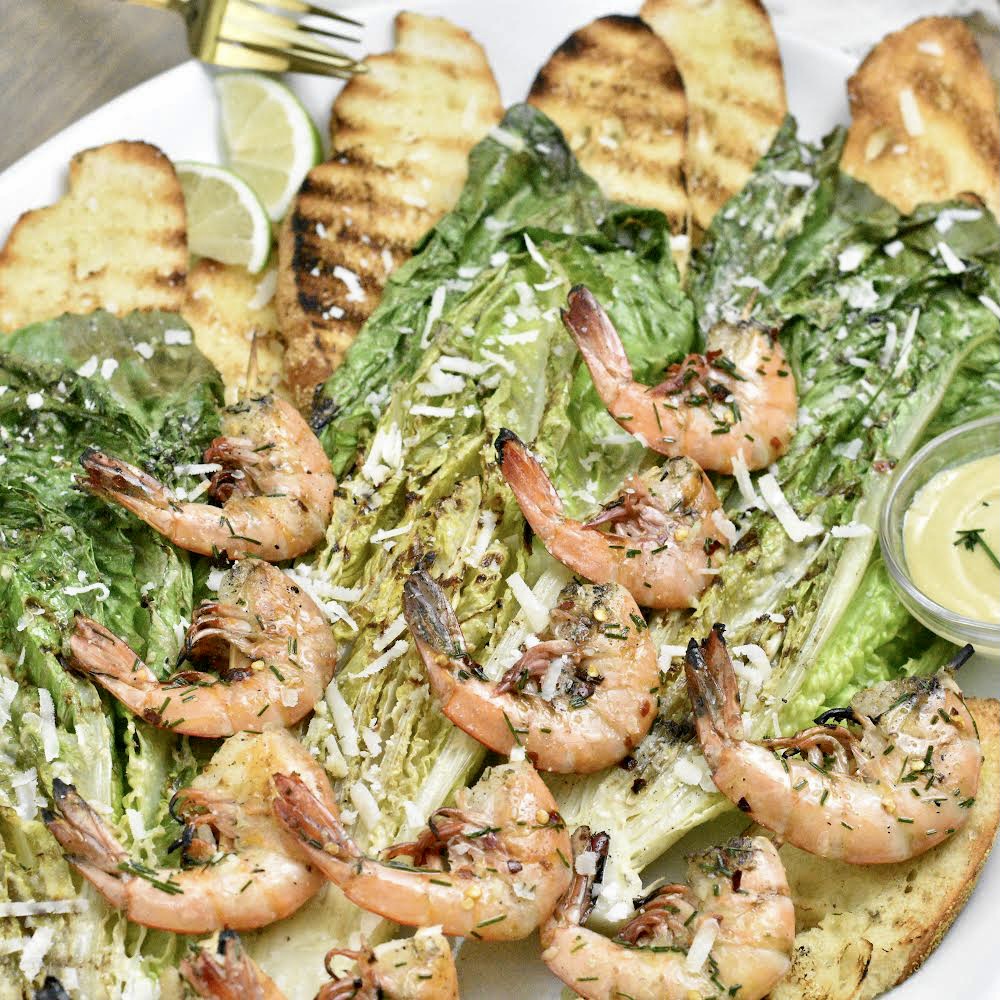 2 lbs shell-on shrimp

2 tsp fresh chives

1 tsp kosher salt

1 tsp red pepper flakes

3 cloves garlic

2 limes

¼ cup olive oil

1 egg yolk

1 tbsp lime juice

5 anchovy fillets

1 tsp dijon mustard

¼ cup parmesan

⅓ cup canola oil

1 baguette

3 heads romaine lettuce

Garnish parmesan
Grilled Romaine Shrimp Caesar
Hi Chefs, Myka here 👋

Sure, we get it: grilling lettuce isn't something that necessarily feels natural, but hear us out. We promise, grilled romaine is definitely something everyone can get behind, especially when it's the base for this Grilled Romaine Shrimp Caesar.

For this dish, you'll rinse and prep fresh shrimp, and make a ridiculously tasty homemade caesar dressing. Then, brush some of that dressing onto a few sliced heads of romaine lettuce, before placing them right on the grill, and grilling them to perfection.

After that, you'll grill up your shrimp, garnish with parmesan cheese, and will serve with a perfectly toasted baguette. Trust us, this recipe is one that's worth getting the grill out of the garage for.

Happy cooking!
Step by Step Instructions
Step 1
Rinse 2 pounds of shrimp, shell-on, and pat dry. Place in a large bowl and set aside.

Step 2
Chop 2 teaspoons of fresh chives and add to a small mixing bowl.
Step 3
Add 1 teaspoon of kosher salt, 1 teaspoon of red pepper flakes and finely grate 2 cloves of garlic to the bowl.
Step 4
Juice 2 limes and add to the bowl.
Step 5
Add 4 tbsp of olive oil to the bowl and stir to combine.
Step 6
Pour half of the oil mixture onto the shrimp, mixing thoroughly to coat the shrimp. Set aside the remaining oil mixture to brush on the shrimp once plated.
Step 7
Place the shrimp on skewers and set them in the refrigerator until ready to grill.
Note: Skewers are not necessary if unavailable.
Step 8
To make the caesar dressing, in the bowl of an immersion blender, add 1 egg yolk, 1 tablespoon of lime juice, 5 anchovies, 1 garlic clove, 1 teaspoon of dijon mustard and ¼ cup of grated parmesan.
Step 9
Start your immersion blender. While the blender is running, slowly pour in ⅓ cup of canola oil until a smooth emulsion forms.
Step 10
Transfer the dressing to a medium mixing bowl. Slowly drizzle in ¼ cup of olive oil while whisking constantly.
Step 11
Cover the dressing with saran wrap and place in the refrigerator until ready to serve.
Step 12
Set your grill to medium direct heat.
Step 13
Slice 1 baguette into ½" slices and drizzle with olive oil.
Step 14
Place the sliced baguette onto the grill and cook until grill marks appear and the bread has toasted to a nice golden brown. Flip and cook the other side the same, then remove from the grill and transfer to a large serving platter.
Step 15
Turn the heat up to medium-high. While waiting for the grill to heat, clean and slice 3 heads of romaine lettuce in half lengthwise.
Step 16
Brush the caesar dressing onto the cut sides of the lettuce and place on the grill, cut side down.
Step 17
Grill until char marks appear, then remove from the heat. Transfer the grilled romaine to the serving platter and position on top of the grilled croutons.
Step 18
Add the shrimp to the grill and cook approximately 2 minutes per side until the shrimp has turned pink.
Step 19
Once cooked, place the skewers on top of the grilled romaine and brush the shrimp with the remaining oil mixture while still hot.
Step 20
Garnish with grated parmesan cheese and serve with extra caesar dressing on the side.

 Myka, also known as "My Kitchen Assistant," is a voice-enabled recipe builder which allows you to effortlessly follow and create recipes. You can read more about Myka's story by clicking here.