Espresso Cheesecake with a Gingerbread Crust
Learn how to make this Espresso Cheesecake with a Gingerbread Crust recipe with the voice-activated cookbook iPhone app, Myka.


Introduction
Espresso Cheesecake with a Gingerbread Crust
By: Sous Chef Myka
We hope you're prepared to fall in love, because this cheesecake recipe is about to become your new favorite. Believe it or not, Espresso Cheesecake with a Gingerbread Crust tastes even better than it sounds.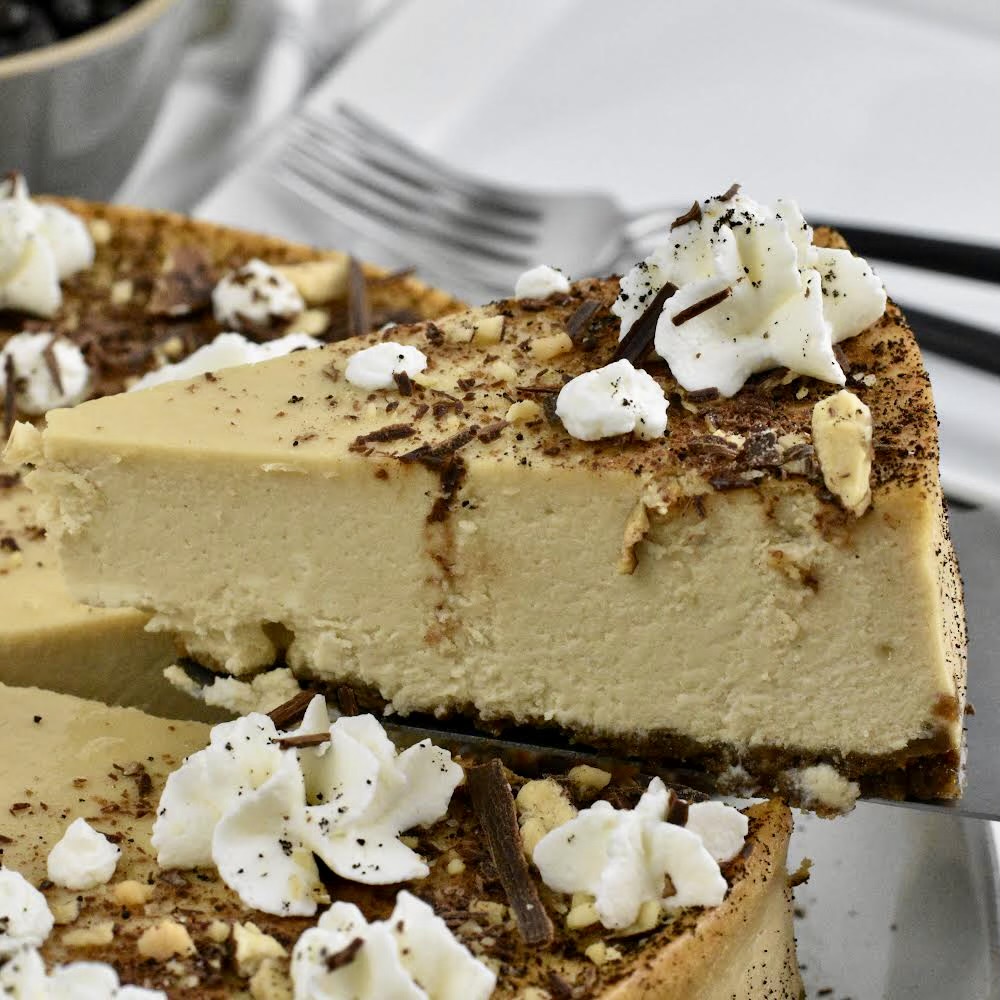 24 oz cream cheese

¾ cup sour cream

¼ cup heavy cream

3 eggs

7 oz gingerbread cookies

1 tbsp + 3 tsp instant espresso powder

5 tbsp butter

½ cup water

¾ cup sugar

1 tsp vanilla extract

¼ cup all purpose flour

Bourbon infused whipped cream for garnish

Chopped nuts for garnish

Espresso powder for garnish

Cinnamon for garnish

Chocolate shavings for garnish


Espresso Cheesecake with a Gingerbread Crust
Hi Chefs, Myka here 👋

Three words for you: another slice please. That's how good this Espresso Cheesecake with a Gingerbread Crust is. To prepare this dish, you'll allow your cream cheese, sour cream, and heavy cream to come up to room temperature, while preparing your crust mixture (which features the notable bite of gingerbread with the deep flavors of espresso). After preparing and baking your crust, you'll mix your softened cheese with a few classic baking ingredients, such as eggs, flour, and vanilla extract.

And don't forget this essential step: once your cheesecake is finished baking, be sure to leave it in the oven. Yep – don't touch it for an hour, so it can slowly cool, in order to prevent cracking.

While you can store it in the fridge, it's so tasty it might not last all that long.

Happy cooking!
Step by Step Instructions
Step 1
Remove 24 ounces of cream cheese, ¾ cup of sour cream, ¼ cup of heavy cream and 3 eggs from the refrigerator and allow all ingredients to come up to room temperature.

Step 2
Preheat the oven to 350℉.
Step 3
Spray a 9" springform pan with cooking spray. Lay out 2 large pieces of aluminum foil and place them on the counter in a cross.
Step 4
Set the springform pan in the middle and fold the edges of the foil up and around the sides of the pan. The foil will protect against water getting into the pan during baking.
Step 5
In the bowl of a food processor, add 7 ounces of gingerbread cookies and 1 tablespoon of instant espresso powder. Process until they form fine crumbs and then transfer to a medium mixing bowl.
Step 6
Melt 5 tablespoons of butter in the microwave and add to the gingerbread crumbs. Combine until the mixture resembles wet sand.
Step 7
Transfer the gingerbread mixture to the springform pan. Using the bottom of a measuring cup or glass, press the mixture evenly into the bottom.
Step 8
Place the crust in the oven and bake for 10 minutes, then remove the crust and let cool while you prepare the filling.
Note: Take care not to tear the aluminum foil when placing it into the oven.

Step 9
In a liquid measuring cup, add ½ cup of water and heat in the microwave for 30 seconds.
Step 10
Add 3 teaspoons of instant espresso powder and mix to dissolve. Set aside.
Step 11
In the bowl of a stand mixer, add the softened cream cheese and ¾ cup of sugar. Mix on medium speed until smooth.
Step 12
Turn the mixer to low and add the sour cream and eggs, one at a time. Allow each egg to be incorporated before adding the next.

Step 13
Slowly add 1 teaspoon of vanilla extract, the heavy cream and instant espresso until well combined.

Step 14
Slowly add in ¼ cup of all-purpose flour and mix on medium speed for 2 minutes.

Step 15
When the crust and sides of the springform pan are cool to the touch, pour the batter and spread it into an even layer.
Step 16
Transfer the pan into a roasting pan or other baking dish big enough to hold it. Bring a few cups of water to a boil and pour into the roasting pan, being careful not to splash any water into the cheesecake. Fill to just below the lowest edge of aluminum foil.
Step 17
Place into the oven and bake for 55-60 minutes. The cheesecake is done when the outer 2 inches look slightly puffed and set, but the inner circle still jiggles like jello when the pan is gently shaken.
Step 18
When the cheesecake is finished, turn off the oven but leave the cheesecake in. Crack open the oven door slightly and let the cheesecake cool slowly for approximately 1 hour to prevent cracking.
Step 19
After 1 hour, remove the cheesecake from the oven. Unwrap the pan from the aluminum foil and transfer it to a cooling rack until cooled completely. Then transfer to the refrigerator and chill uncovered for at least 4 hours and up to 24 hours. Do not rush this step.
Step 20
When ready to serve, unmold the cheesecake and finish with your choice of toppings such as stabilized bourbon infused whipped cream, chopped nuts, espresso powder, cinnamon and chocolate shavings.
 Myka, also known as "My Kitchen Assistant," is a voice-enabled recipe builder which allows you to effortlessly follow and create recipes. You can read more about Myka's story by clicking here.