Buttermilk Fried Chicken and Sourdough Waffles

Learn how to cook this Buttermilk Fried Chicken and Sourdough Waffles recipe with the voice-activated cookbook iPhone app, Myka.


Introduction
Buttermilk Fried Chicken and Sourdough Waffles
By: Sous Chef Myka
With chicken crisped to perfection and tangy sourdough waffles, this Buttermilk Fried Chicken and Sourdough Waffles recipe is sure to hit home. There are a few secrets that make this recipe a knockout, but one of them is the overnight sponge for the waffles.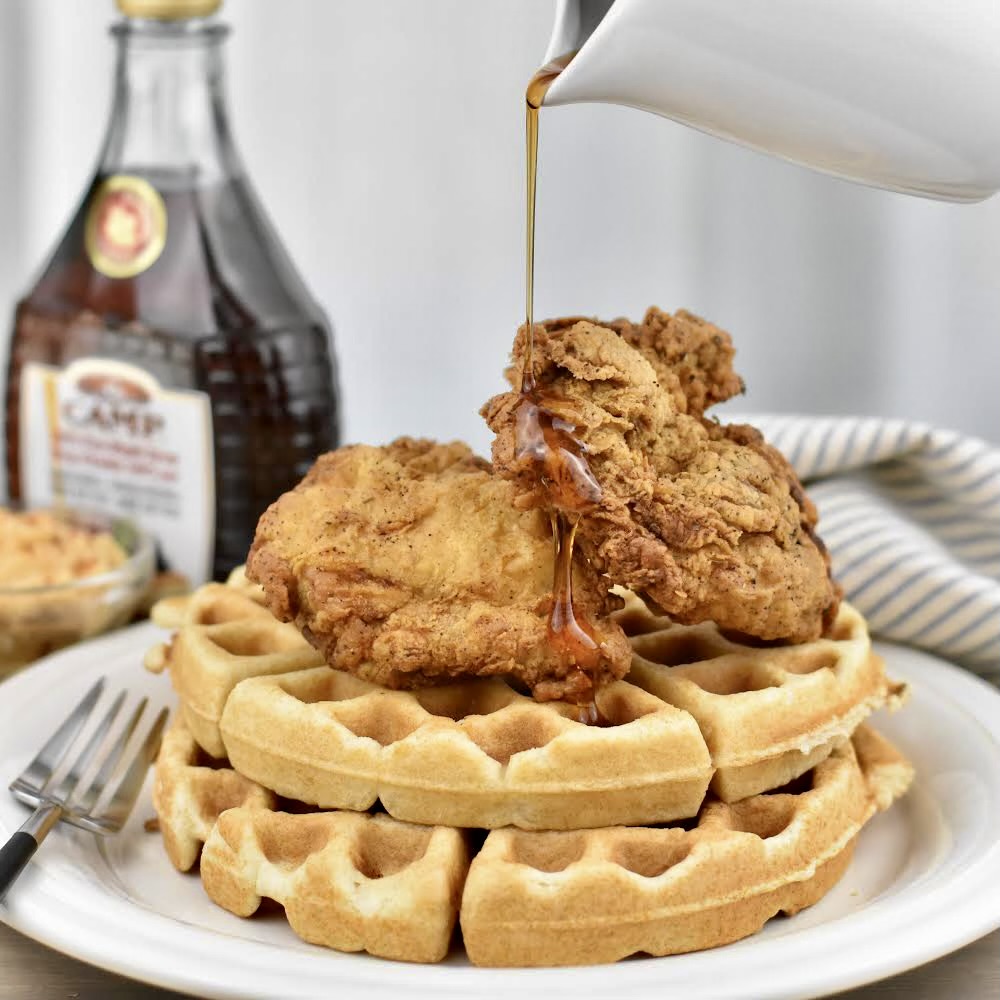 1 ½ cups all-purpose flour

240 grams all-purpose flour

28 grams sugar

1 cup buttermilk

454 grams buttermilk

227 grams sourdough discard

2 tbsp smoked paprika

2 tbsp black pepper

3 tsp garlic powder

2 tsp dried oregano

1 pinch cayenne pepper

3 eggs

1 tbsp salt

2 ¾ tsp salt

8 boneless chicken thighs

Peanut oil

½ cup cornstarch

1 tsp baking powder

¼ cup vegetable oil

1 tsp baking soda
How to make Buttermilk Fried Chicken and Sourdough Waffles
Hi Chefs, Myka here 👋 Hot take: chicken and waffles is an incredible dish, because it's perfect for any time of day. And when you make this recipe the Myka way, you'll end up with ridiculously flavorful chicken, and sourdough waffles to die for.
Here's how you'll make this recipe: after preparing your waffle sponge and letting it rest overnight, you'll whip up a simple buttermilk mixture. Then, dip your chicken, coat it in the perfect flour mixture, and fry it to golden perfection. After that, you'll finish up your waffle batter, and you'll have hot, fresh, and ridiculously tasty chicken and waffles in no time.
And take it from us: this recipe is bound to make the house smell delicious. 
Happy cooking!
Step by Step Instructions
Step 1
To prepare the overnight sponge for the waffles, using a scale, add to the bowl of a stand mixer, 227 grams of sourdough discard, 240 grams of all-purpose flour, 28 grams of sugar and 454 grams of buttermilk.
Step 2
Stir together using the paddle attachment then cover the bowl with plastic wrap. Let rest overnight at room temperature.
Step 3
To prepare the chicken, in a small bowl, combine 2 tablespoons of smoked paprika, 2 tablespoons of black pepper, 3 teaspoons of garlic powder, 2 teaspoons of dried oregano and a pinch of cayenne pepper. Mix until well combined.
Step 4
In a separate bowl, whisk together 1 cup of buttermilk, 1 egg, 1 tablespoon of salt and 2 tablespoons of the spice mixture.
Note: Reserve the remainder of the spice mixture to season the chicken. 
Step 5
Transfer the buttermilk mixture to a 1 gallon zip lock bag and add 8 boneless chicken thighs. Place in the refrigerator overnight until ready to make.
Note: You will want to pause the recipe here until the following day when you are ready to make the chicken and waffles.
Step 6
To fry the chicken, heat enough peanut oil in a large dutch oven to 375℉.
Step 7
While the Dutch oven is heating, in a large bowl, whisk together 1 ½ cups of all-purpose flour, ½ cup of cornstarch, 1 teaspoon of baking powder, 2 teaspoons of salt and the remaining spice mixture.
Step 8
Remove one piece of chicken at a time from the bag and allow the excess buttermilk to drip off. Place the chicken into the flour mixture and toss to coat. Continue adding until all pieces of chicken are thoroughly coated.
Step 9
Shake off the excess flour and slowly lower into the heated oil. Continue placing the chicken into the hot oil, but be sure not to overcrowd the dutch oven. You may need to cook these in 2 batches.
Step 10
Cook for about 4-6 minutes until the chicken is golden brown and cooked through.
Step 11
Transfer the finished chicken to a paper towel lined plate to absorb any excess oil. 
Step 12
Preheat and grease your waffle iron.
Step 13
To your overnight waffle sponge, add 2 large eggs and ¼ cup of vegetable oil. Stir just to combine.
Step 14
Add ¾ teaspoon of salt and 1 teaspoon of baking soda. Stir to combine.
Step 15
Pour the batter into your preheated waffle iron and cook according to the machine.
Step 16
Continue cooking until the desired amount of waffles has been made..
Step 17
Assemble the chicken atop the waffles and serve immediately with syrup and hot sauce if desired.