Black Cherry, Sage and Cabernet Sauvignon Jam Pop Tarts
Learn how to cook this Black Cherry, Sage and Cabernet Sauvignon Jam Pop Tarts recipe with the voice-activated cookbook iPhone app, Myka.


Introduction
Black Cherry, Sage and Cabernet Sauvignon Jam Pop Tarts
By: Sous Chef Myka
Don't miss out on these one-of-a-kind Black Cherry, Sage and Cabernet Sauvignon Jam Pop Tarts. Perfectly sweetened thanks to an incredible homemade jam, these Pop Tarts are sure to be a hit. They're the flaky, crumbly pastry you know and love, with a flavor you can't resist.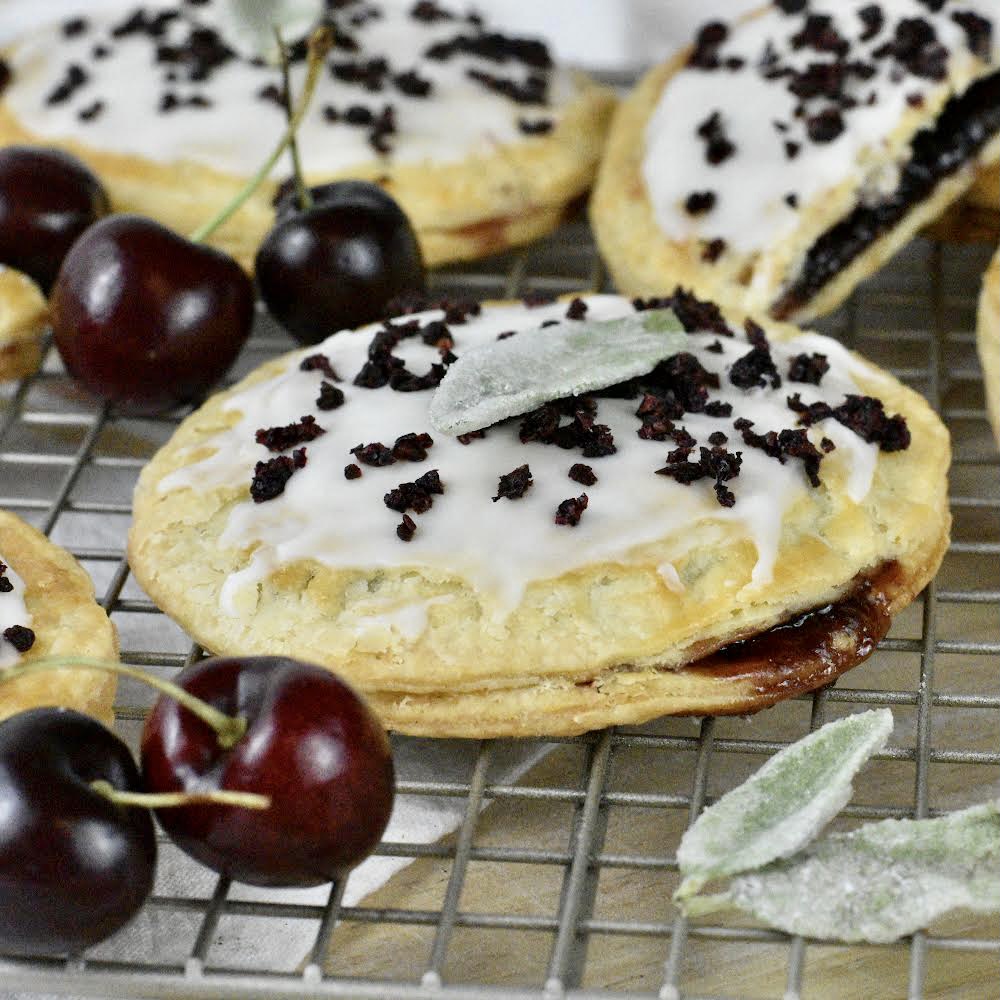 240 grams All Purpose Flour

11 grams Sugar

1 tsp + 1 pinch salt

2 eggs

2 tbsp Milk

½ tsp Almond Extract

16 tbsp Butter

1 Tbsp Black Cherry, Sage and Cabernet Sauvignon Jam

170 grams confectioners sugar

6 tbsp Heavy Cream
How to make Black Cherry, Sage and Cabernet Sauvignon Jam Pop Tarts
Hi Chefs, Myka here 👋 Once we came up with our Black Cherry, Sage and Cabernet Sauvignon Jam recipe, we knew we have to put it on (or in) just about everything. And then it hit us: what if we took this all-star jam, and used it as the filling for some home made Pop Tarts?
Trust us, these aren't your average grocery store Pop Tarts.  This home made Pop Tart dough is simple yet delicious, and you'll fill this pastry with jam, before frosting your finished Pop Tarts with a ridiculously simple home made frosting.
Happy cooking!
Step by Step Instructions
Step 1
To prepare the tart dough, in the bowl of a stand mixer fitted with the paddle attachment, add 240 grams of all-purpose flour, 11 grams of sugar and 1 teaspoon of salt. Whisk to combine and set aside.
Step 2
In a separate bowl, whisk together 1 egg with 2 tablespoons of milk and ½ teaspoon of almond extract. Set aside.
Step 3
Cut 16 tablespoons of cold butter into pats and add to the flour mixture from step 1.  Run your mixer on low and work in the butter until ½" lumps are still visible.
Step 4
Add in the egg and milk mixture to the flour and mix on low until everything is just combined and cohesive.
Step 5
Divide the dough in half and shape each half into a rectangle.  Wrap in plastic wrap and refrigerate for at least 1 hour and up to 2 days.
Step 6
When you are ready to bake, remove the dough from the refrigerator and let it rest for 15 minutes.
Step 7
Prepare a baking sheet with parchment paper and set aside.
Step 8
Place 1 piece of dough on a generously floured work surface and roll out to approximately ⅛" thick.
Step 9
Using a 4 ½" round cookie cutter, cut out as many circles as you can, approximately 8-9 and place on the baking sheet.
Step 10
In a bowl, beat 1 egg and brush it over the surface of the cut dough circles. Do not discard the remaining beaten egg wash.
Step 11
Spread approximately 1 tablespoon of black cherry, sage and cabernet sauvignon jam in the center of each cut circle and spread to approximately ½" away from the edge.
Note: You can use any pre-made jam you prefer in this step. 
Step 12
Re-flour your work surface and roll the other piece of dough out to ⅛" thickness.
Step 13
Using your 4 ½" cookie cutter, cut an equal amount of circles as the first round of dough.
Step 14
Place the second dough atop the first and firmly press around the edges to seal.
Step 15
Place the baking sheet in the refrigerator, uncovered, for approximately 30 minutes.
Step 16
Preheat your oven to 350℉.
Step 17
Remove the pop tarts from the refrigerator and prick the tops with a toothpick or fork multiple times to allow for the steam to escape.
Step 18
Brush the top of each pop tart with the remaining egg wash and place in the oven
Step 19
Allow to bake for 30-35 minutes until light golden brown.
Step 20
When the pop tarts are baked, remove them from the oven and transfer to a wire cooling rack. Allow to cool completely.
Step 21
To make the frosting, mix 170 grams of confectioners sugar with 1 pinch of salt. Gradually add in up to 6 tablespoons of heavy cream, one tablespoon at a time until the frosting creates a soft and spreadable consistency.
Step 22
When the pop tarts are cool, spread the frosting on top.
Step 23
Garnish with the toppings of your choice.
Step 24
You can store the pop tarts on the counter for up to 2 days, in the refrigerator for 1 week or you can freeze them for up to a month.