Hands-free, voice activated & interactive recipe recording & documenting.

Create, recreate and tweak your culinary masterpiece at any time.

Create, save and organize your cherished and/or inventive recipes all in one place.

Photograph and upload them to your recipe.

Hyperlink an ingredient to jump to any recipe using that item.

Add voice memos and notes all in one place to use again next time.

Search through your recipes by ingredient or recipe title.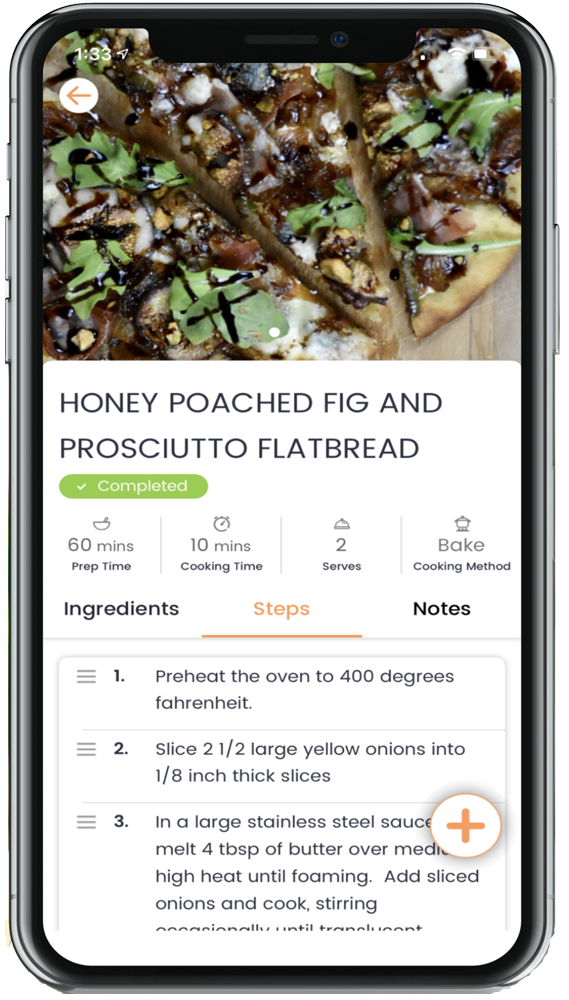 Let Myka™ read back the recipe aloud to you while you cook.

Recognize and file step-by-step instructions with the sound of your voice.

Identifies and lists ingredients and quantities in a separate tab for ease of grocery shopping.

Adding more salt to taste? Myka™ will recalculate the sum of an ingredient to reflect the correct amount.

Easily edit and rearrange recipe steps.

Duplicate an existing recipe to modify it, while keeping the original in place.

The more you use Myka™, the more she learns.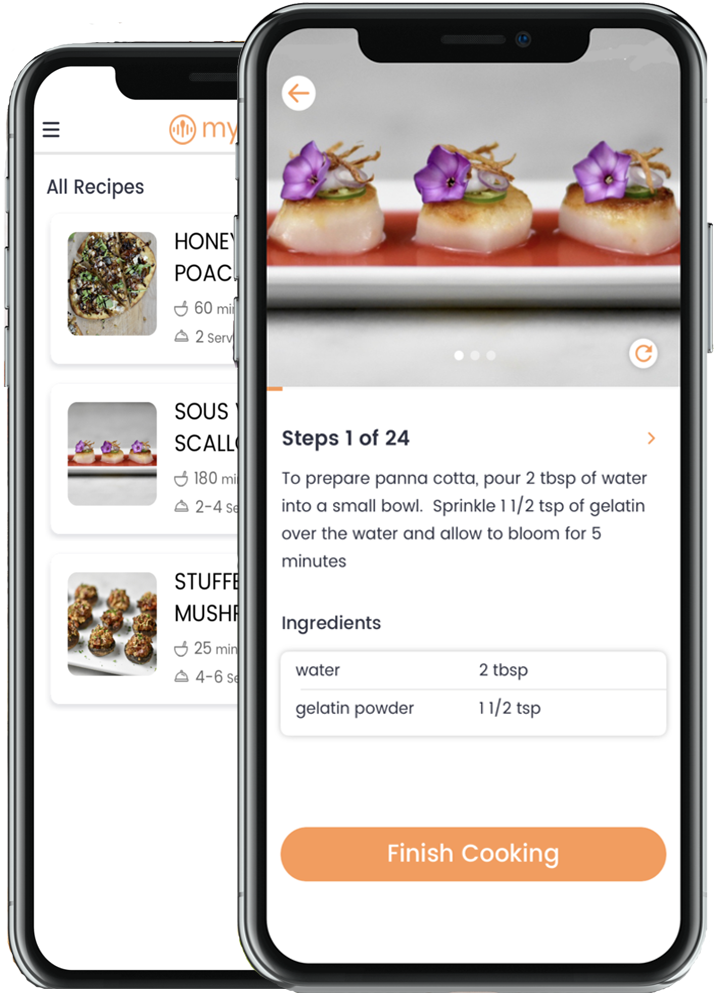 How To Prepare Your


Recipes With Myka

™

Easily convert your speech into a written cookbook using Myka's™ artificial intelligence to dictate the perfect plate. 
1. Say "Hey, Myka™, create new recipe" and Myka™ will begin recording your new creation.
2. The moment you have a creative idea to add a new ingredient to the mix, just say "Hey, Myka™, add 1 teaspoon of smoked paprika" and Myka™ will add 1 teaspoon of smoked paprika.
3. Revise the instructions by saying, "Hey Myka, add one teaspoon of smoked paprika. Myka substitutes the original serving with your updated amount using artificial intelligence technology. Myka™ won't make things messy by adding another line to the recipe, she easily substitutes the original serving with your updated amount.
4. Document, photograph, edit and save the cooking method, serving size, and preparation time of your custom dishes and drinks to use when you are ready to make them again.
5. After your new recipe becomes a huge hit, and you decide to make it again, just ask  Myka™ to read back each step of the recipe while you cook.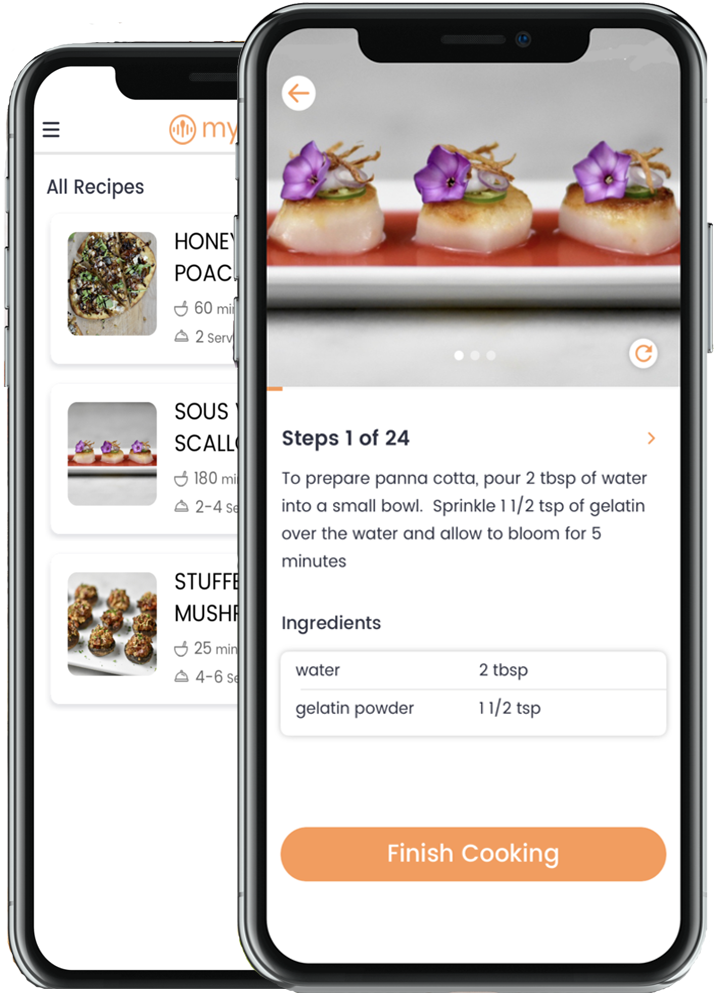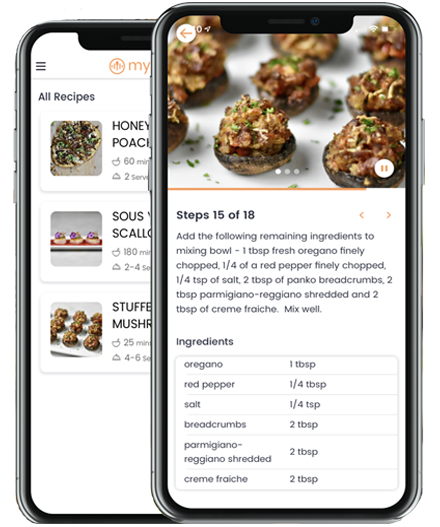 Myka™ is the voice-activated & interactive recipe recording app for those who want to create new mixed drinks, grilled foods, baked goods, or any dish to eat at mealtime. Whether you are a supercook, avid meal-prep planner, or foodie who likes making something new, Myka™ will feel like a cooking game and fun activity for you.
Open your personalized Myka™ cookbook and start meal planning in your virtual food journal. Whether you want to experiment with the leftover ingredients in your pantry, hone your cooking skills, or become the next Martha Stewart or Gordon Ramsay master chef, you'll love using the app to document, edit and file your latest culinary creations. 
Myka™ will guide you every step of the way! Keep those creative juices flowing while cooking and let Myka™ add it to your Cooking Diary. We look forward to seeing all of the different recipes you all come up with. Go back into the Cookbook and start Meal Planning whenever you are ready. Stay tuned for many updates that will add even more to this already extensive food planner. So make sure to tell all your friends about us and join the fun to see who is the master chef!
Your Personal
Kitchen Assistant

Say hello to Myka™, your personal kitchen assistant! Myka™ is the all new recipe keeper utilizing artificial intelligence to help anyone in the kitchen add new ingredients into their recipes and never forget them again!