Sweet Potato Hash Brown with Lime Crema, Prosciutto, Poached Egg and Chipotle Hollandaise
Learn how to make a sweet potato hash brown recipe with the voice-activated cookbook iPhone app


Introduction
About Sweet Potato Hash Brown with Lime Crema, Prosciutto, Poached Egg & Chipotle Hollandaise 
 By: Sous Chef Myka
Looking for a delicious and easy breakfast dish? This sweet potato hash brown will be sure to please! It's perfect for a weekend brunch or even a quick weeknight meal. Plus, it's a hearty meal that will fill you up! So what are you waiting for?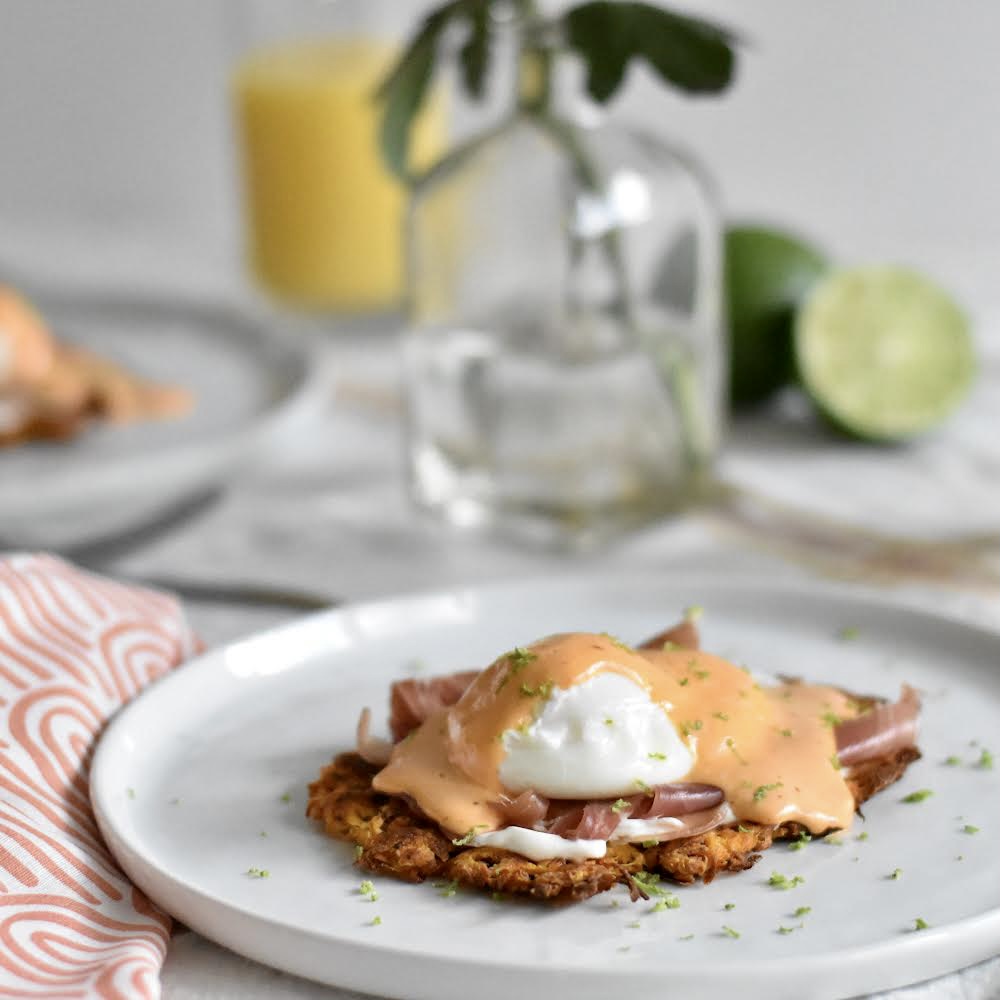 ¼ Cup Creme Fraiche

2 Tbsp Lime Juice

1 Large Sweet Potato

1 Shallot

2 Garlic Cloves

5 Eggs

2 Tbsp Flour

2 Tbsp Kosher Salt

½ Tsp Pepper

2 Tbsp Vegetable Oil

8 Tbsp Butter

2 Egg Yolks

3 Quarts Water + 2 Tsp

1 & ½ Tbsp Lemon Juice

1 Chipotle In Adobo Sauce

4 Slices Prosciutto

Lime Zest
How to make sweet potato hash brown with lime crema, prosciutto, poached egg and chipotle hollandaise
Do you love breakfast foods as much as we do? If so, then you'll love this sweet potato hash brown recipe. It's loaded with delicious toppings like lime crema, prosciutto and a poached egg. Plus, it's really easy to make. So what are you waiting for? Try it out today!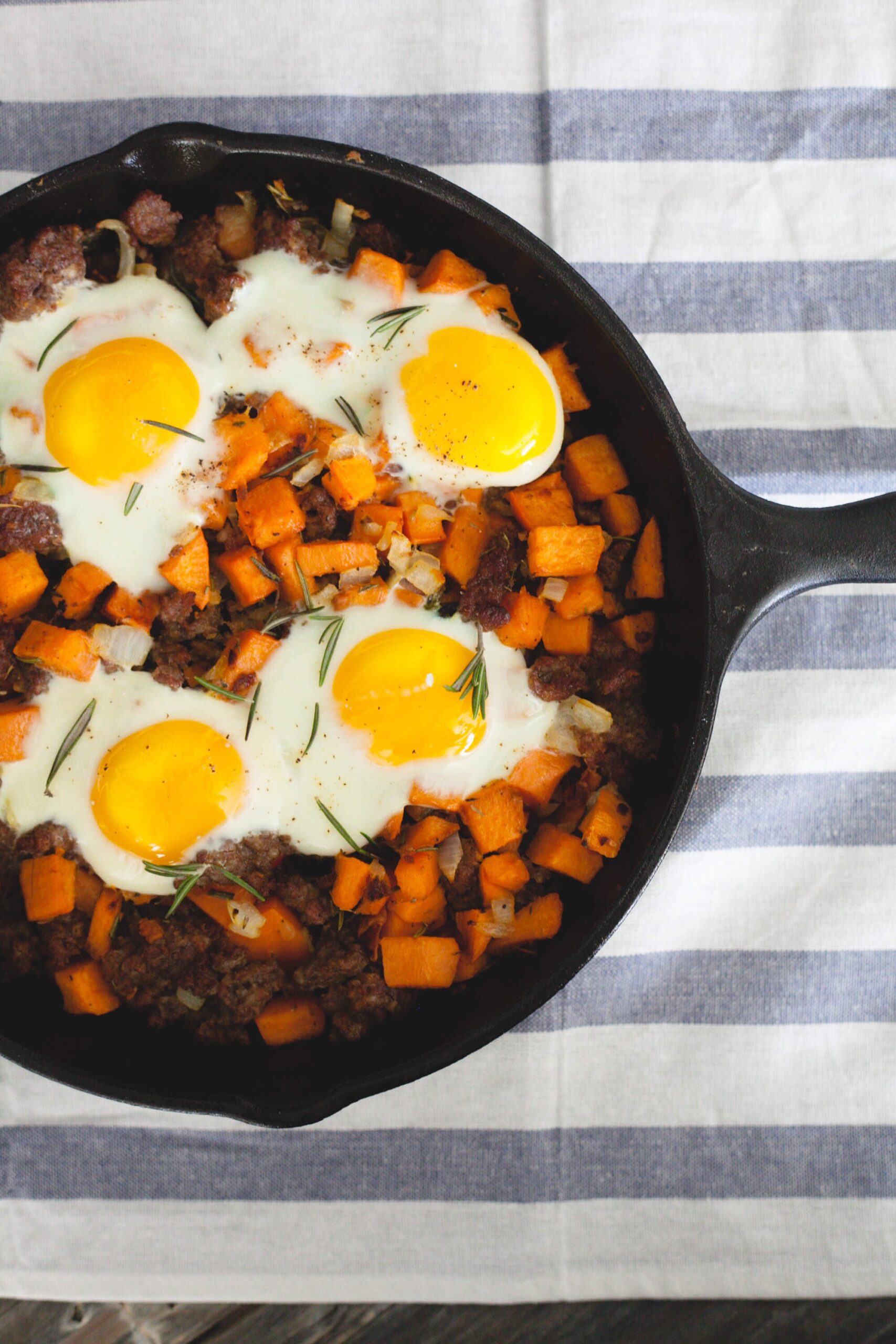 Step by Step Instructions
Step 1
Preheat the oven to 350℉.
Step 2
Mix ¼ cup of creme fraiche with 2 tablespoons of lime juice and place in the refrigerator.
Step 3
Using a box grater, peel and coarsely grate 1 large sweet potato. Place into a bowl of cold water and swirl to remove the starch.
Step 4
Using your hands or a fine mesh sieve, squeeze the grated sweet potato to remove as much water as you can. Place into a large mixing bowl.
Step 5
Grate 1 shallot and 2 cloves of garlic into the mixing bowl.
Step 6
To the bowl, add 1 egg, 2 tablespoons of flour, ½ teaspoon of kosher salt and ½ teaspoon of pepper and mix to combine.
Step 7
Heat 2 tablespoons of vegetable oil in a large skillet over medium heat.
Step 8
Scoop ¼ of the mixture onto the hot oil and gently flatten with a spatula. Repeat this process with the remaining mixture.
Step 9
Cook until lightly browned and then flip. Continue to cook until the other side is golden brown and crispy.
Step 10
Transfer the hash browns to a baking sheet and bake for 10 minutes.
Note: The hashbrowns can remain in the oven after baking is complete and the oven is turned off until you are ready to plate.
Step 11
To begin the chipotle hollandaise, melt 8 tablespoons of butter in a small saucepan over high heat until foaming subsides. Transfer butter to a liquid measuring cup.
Step 12
In the cup of an immersion blender, add 2 egg yolks, 2 teaspoons of water, 1 ½ tablespoons of lemon juice, 1 chipotle pepper packed in adobo sauce and a pinch of salt.
Step 13
Place the head of an immersion blender into the bottom of the cup and turn it on. With the blender running constantly, slowly pour in the hot butter until all the butter is added. Set aside.
Step 14
To prepare the poached egg, combine 3 quarts of water and 2 tablespoons of kosher salt in a large saucepan and bring to a boil over high heat.
Step 15
When the water has boiled, reduce heat to the lowest setting.
Step 16
Carefully crack 1 egg into a small heat-proof bowl and gently lower the bowl into the water. Repeat with the additional 3 eggs..
Step 17
Allow the eggs to cook for about 4 minutes, gently swirling them around the water. Once cooked remove from the water using a slotted spoon and transfer to a paper towel lined plate.
Step 18
To begin plating, spread lime crema over each hash brown. Remove 4 slices of prosciutto from the packaging and layer one slice on each hash brown.
Step 19
Complete with a poached egg, the chipotle hollandaise sauce and lime zest. Serve immediately.
Protein

100%

100%

Carbohydrates 

100%

100%

Dietary fiber

100%

100%

 Saturated Fat

100%

100%

Vitamin A

100%

100%

Vitamin C

100%

100%

Folate

100%

100%

Calcium

100%

100%

Magnesium

100%

100%

Iron

100%

100%