Spanish Inspired Takoyaki
Learn how to make this Spanish Inspired Takoyaki recipe with the voice-activated cookbook iPhone app, Myka.


Introduction
Spanish Inspired Takoyaki

By: Sous Chef Myka
You might think Takoyaki can only be enjoyed when you're out to eat at your local Japanese restaurant. But this Spanish Inspired Takoyaki is easier than you might think, and features not only the typical octopus, but also serrano ham and manchego cheese.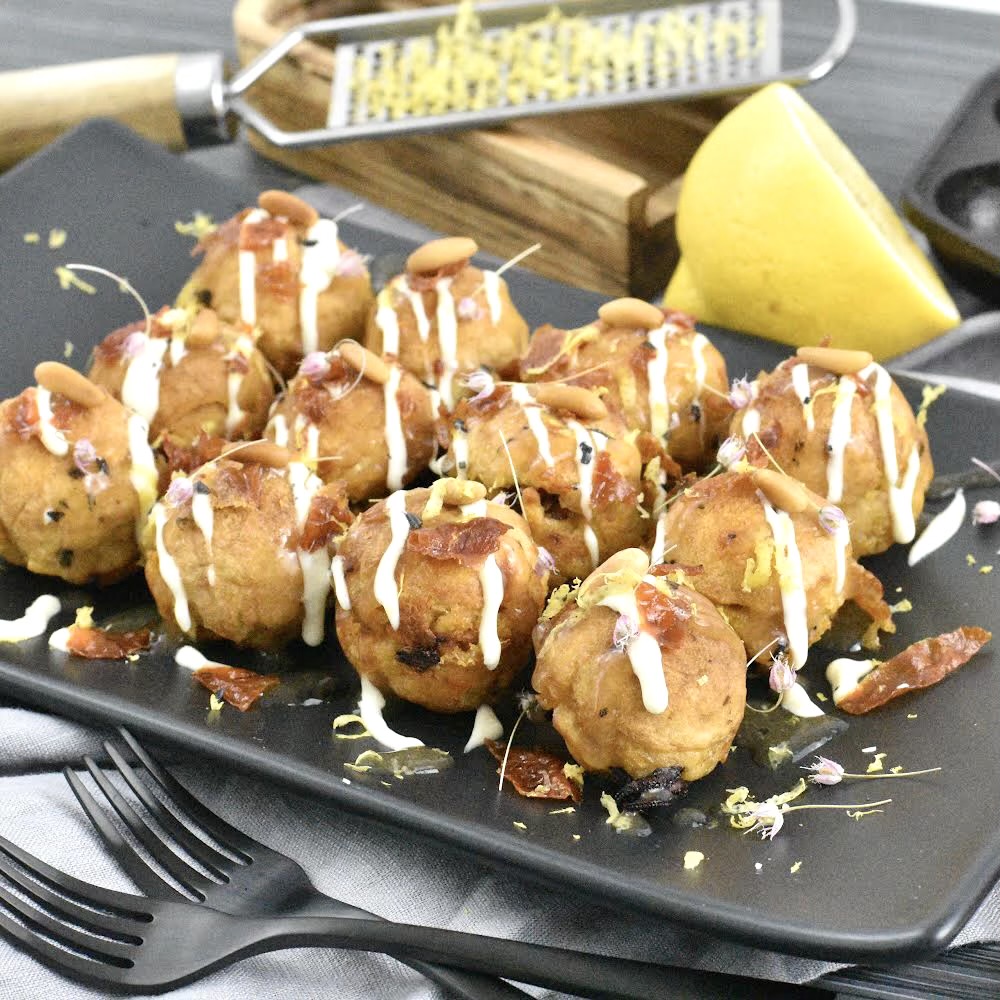 115 grams all-purpose flour

1 tsp baking powder

¼ tsp paprika

1 egg

½ tsp soy sauce

⅔ cup water

1 & ½ tbsp water

15 strands saffron

¼ cup pre-cooked octopus

¼ red pepper

3 cloves garlic

2 oz manchego cheese

1 & ½ cups sherry

1 & ½ tbsp cornstarch

1 tbsp dark brown sugar

2 tbsp olive oil

3 slices serrano ham

1 tbsp pine nuts

Vegetable oil

Kewpie mayonnaise
Spanish Inspired Takoyaki
Hi Chefs, Myka here 👋

Takoyaki isn't just for Japanese takeaway, and our Spanish Inspired Takoyaki is bound to become your new go-to. These flour ball-shaped snacks are usually filled with cooked octopus, and you can have them hot and fresh at home in no time. To start, you'll need a Takoyaki pan, but if you don't have one, this recipe works great for pancakes.

Next, you'll combine a flour mixture, and in a separate bowl, whisk egg, soy sauce and saffron. Combine these two mixtures, and prepare some other ingredients: your cooked octopus, red pepper and garlic.

After reducing a sherry mixture on the stove, and crisping your serrano ham, you'll heat your Takoyaki pan, before pouring the batter into the wells. You'll place a small portion of your prepped ingredients into each well, and use chopsticks to rotate your Takoyaki as they cook. Once the exteriors are golden brown, remove from the pan and drizzle with sherry reduction and kewpie mayonnaise.

Happy cooking!
Step by Step Instructions
Step 1
Please note that this dish requires a takoyaki pan. If you do not have one, these can be made into pancakes using a cast iron skillet. This dish also calls for precooked octopus, however, you can substitute with any pre cooked fish, meat or sausage of your preference.
Step 2
In a bowl, combine 115 grams of all-purpose flour, 1 teaspoon of baking powder and ¼ teaspoon of paprika. Whisk to combine and set aside.
Step 3
In a separate bowl, whisk together 1 egg, ½ teaspoon of soy sauce, ⅔ cup of water and 15 strands of saffron.
Step 4
Whisk the egg and flour mixture together until well combined. Set aside.
Step 5
Finely dice ¼ cup of precooked octopus and set aside.
Step 6
Finely dice ¼ of a red pepper and set aside.
Step 7
Finely mince 3 cloves of garlic and set aside.
Step 8
Finely shred 2 ounces of manchego cheese and set aside.
Step 9
In a small saucepan, add 1 ½ cups of sherry and bring to a simmer.
Step 10
In a small bowl, whisk together 1 ½ tablespoons of cornstarch with 1 ½ tablespoons of water. Slowly add to the sherry, constantly stirring until well combined.
Step 11
Reduce the heat to low and continue to simmer, stirring occasionally, until the sauce has reduced by half. About 15 minutes.
Step 12
When the sherry has reduced, remove from heat and stir in 1 tablespoon of dark brown sugar. Let cool until ready to serve.
Step 13
Heat a large pan over medium heat and add 2 tablespoons of olive oil. When the oil is heated, add 3 slices of serrano ham. Flip often until golden brown and crispy, then set aside on a paper towel.
Step 14
In the same pan, add 1 tablespoon of pine nuts. Stir constantly until toasted, then set aside on a paper towel.

Step 15
Heat the takoyaki pan over medium-high heat and brush vegetable oil over the entire surface.

Step 16
Pour the batter into the wells of the pan all the way to the top.

Step 17
Place a small portion of the octopus, red pepper, manchego cheese and garlic into the center of each well.

Step 18
Using chopsticks or wooden skewers, separate the layer of batter on top. Rotate each takoyaki as they cook to give them a spherical shape.

Note: Use one chopstick to partially flip each ball and the other to stuff the top layer of filling and batter into the well as you go.

Step 19
Keep cooking, turning the takoyaki intermittently to get an even, golden brown exterior.

Note: For a crunchier texture, add additional vegetable oil while flipping the takoyaki.

Step 20
Continue this process until all of the batter has been made into takoyaki.
Note: There is enough batter to make approximately 20 takoyaki.



Step 21
To serve, drizzle with the sherry reduction and kewpie mayonnaise. Garnish with the crispy serrano ham and toasted pine nuts.




 Myka, also known as "My Kitchen Assistant," is a voice-enabled recipe builder which allows you to effortlessly follow and create recipes. You can read more about Myka's story by clicking here.