Guinness & Jameson Irish Stew Recipe
Learn how to cook a Guinness and Jameson Irish stew recipe with the voice-enabled recipe builder app


Introduction
About Guinness and Jameson Irish Stew
Recipe
 By: Sous Chef Myka
We're going to show you how to make a delicious Guinness and Jameson Irish Stew that will have your taste buds singing "Oh Danny Boy!"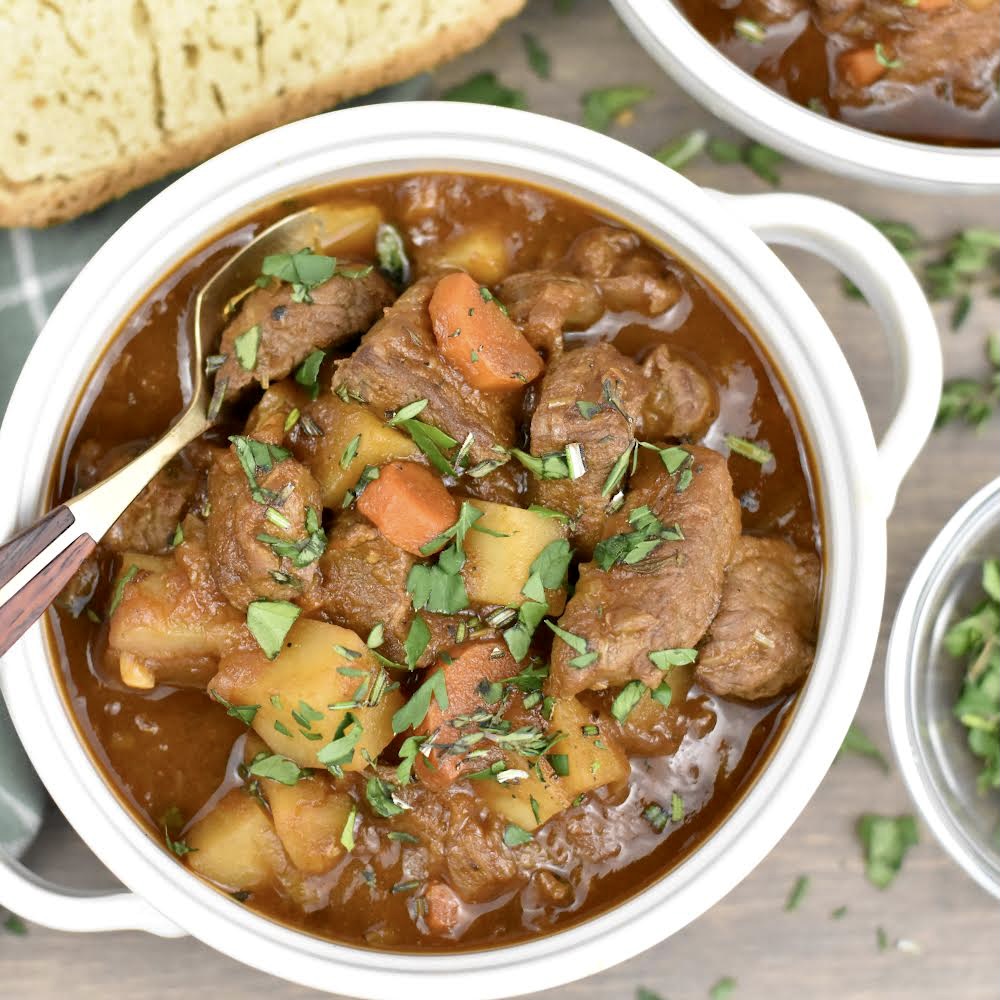 3 Yellow Onions

4 Tbsp Butter

1 Tsp Salt

2 Lbs. Lamb

4 Carrots

2 Leeks

4 Garlic Cloves

4 Sprigs Fresh Thyme

3 Sprigs Fresh Parsley

2 Bay Leaves

2 Tbsp Oil

Pepper

2 Tbsp Flour

¼ Cup Jameson Irish Whiskey

6 Oz Tomato Paste

2 Bottles Guinness Extra Stout

3 Cups Chicken Broth

1 Tsp Fish Sauce

1 Tsp Soy Sauce

1 Tsp Worcestershire Sauce

¼ Cup Coffee

2 White Potatoes 
How to cook Guinness and Jameson Irish stew
Irish Stew is the perfect comfort food for cold winter days. This dish is hearty and flavorful, and it's sure to warm you up from the inside out. Plus, it's easy to make and perfect for a crowd. If you're looking for a delicious and satisfying meal, give this stew a try. You won't regret it!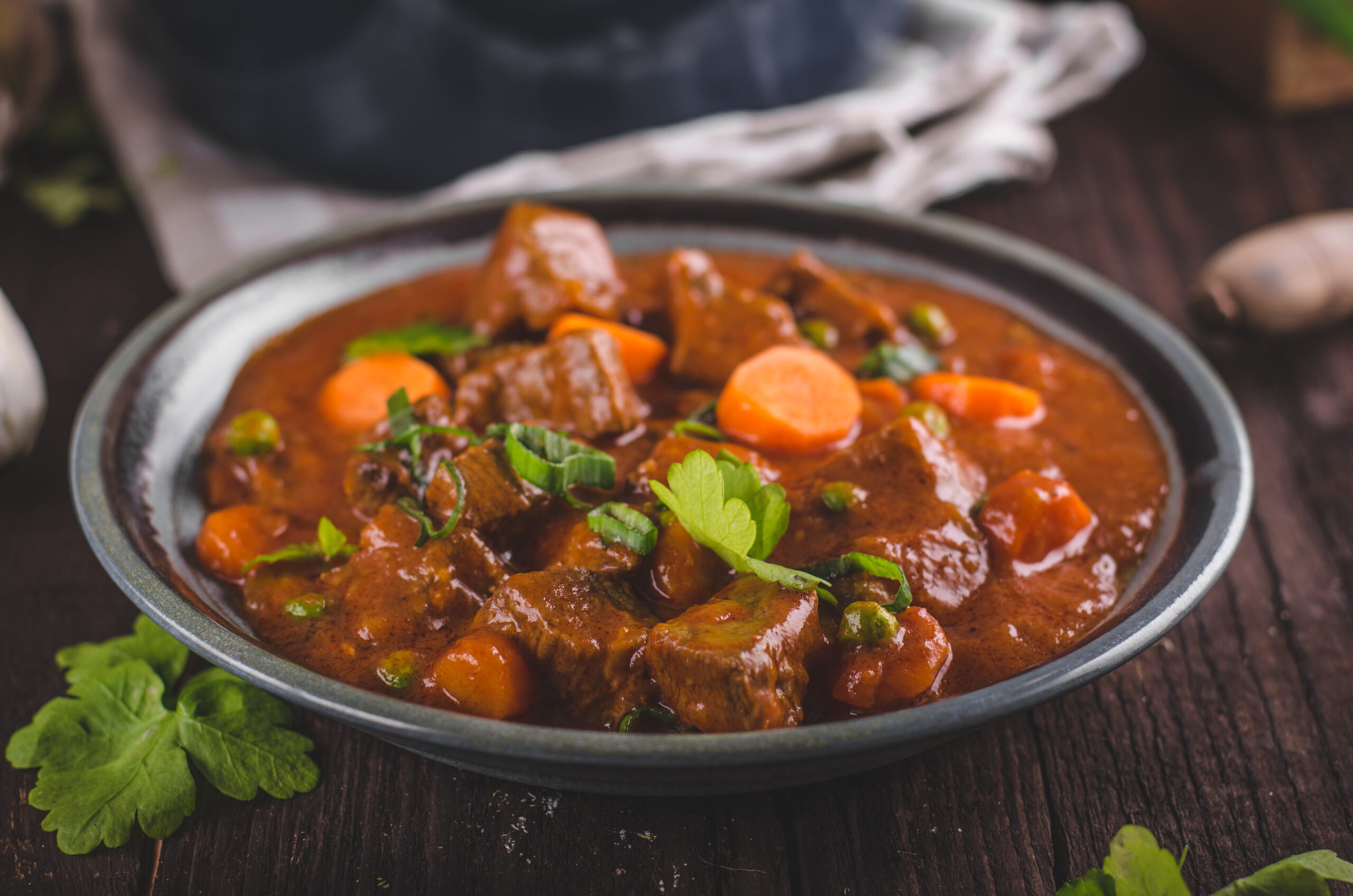 Step by Step Instructions
Step 1
Dice 3 large yellow onions. Set aside.
Step 2
In a large stainless steel saucepan, melt 4 tablespoons of butter over medium-high heat until foaming.
Step 3
Add diced onions and season with 1 teaspoon of salt. Stir the onions frequently until translucent, about 8 minutes.
Step 4
Lower the heat to medium-low and continue stirring occasionally until the onions are a dark golden brown color, approximately 1 hour.
Step 5
In the meantime, clean and cube 2 pounds of lamb into ½" chunks. Set aside.
Step 6
Peel and dice 4 medium carrots. Set aside.
Step 7
Thinly slice 2 leeks, white and light green parts only. Set aside.
Step 8
Mince 4 cloves of garlic. Set aside.
Step 9
Gather 4 sprigs of fresh thyme, 3 sprigs of parsley and 2 bay leaves. Using butcher's twine, tie everything together to create a bouquet garni.
Step 10
When onions are almost complete, heat 2 tablespoons of oil in a large Dutch oven over medium-high heat.
Step 11
Season the lamb heavily with salt and pepper and cook until the meat is browned on all sides.
Step 12
Remove the lamb from the Dutch oven and sprinkle with 2 tablespoons of flour. Stir to coat the meat.
Step 13
Add the carrots, leeks and garlic to the Dutch oven and sauté until soft.
Step 14
Return the meat to the Dutch oven.
Step 15
Transfer the caramelized onions to the Dutch oven and stir to combine.
Step 16
Deglaze the Dutch oven with ¼ cup of Jameson Irish Whiskey, scraping up any fond from the bottom.
Step 17
Add a 6 ounce can of tomato paste to the Dutch oven and mix to combine.
Step 18
Add 2 bottles of Guinness Extra Stout and 3 cups of chicken broth to the Dutch oven.
Step 19
Add the previously twined bouquet garni to the Dutch oven.
Step 20
Add 1 teaspoon of fish sauce, 1 teaspoon of soy sauce and 1 teaspoon of Worcestershire sauce to the Dutch oven.
Step 21
Add ¼ cup coffee to the Dutch oven and bring everything to a boil.
Note: You can use your leftover morning coffee if available.
Step 22
When the stew begins to boil, reduce the heat to low. Cover and simmer for 1 ½ hours.
Step 23
After 1 ½ hours, peel and dice 2 white potatoes. Uncover the pot, add and cook the potatoes for an additional 30 minutes.
Step 24
Season to taste with salt and pepper. Serve while hot.
Guinness and Jameson Irish Stew
Dietary Fiber

100%

100%

Sugar

100%

100%

Saturated Fat

100%

100%

Protein

100%

100%

Sodium 

100%

100%

Cholesterol

100%

100%

Vitamin A

100%

100%

Vitamin C

100%

100%

Calcium

100%

100%

Iron

100%

100%