Learn how to make this Greek Orzo Salad recipe with the voice-activated cookbook iPhone app, Myka.


Introduction
Greek Orzo Salad

By: Sous Chef Myka
Light, refreshing, and with the bite of perfectly cooked orzo pasta, this Greek Orzo Salad is just perfect for eating by the spoonful right out of the serving bowl. It features fresh veggies such as spinach, red bell pepper, and cherry tomatoes, and is topped with a simple (but tasty) garlic lemon dressing.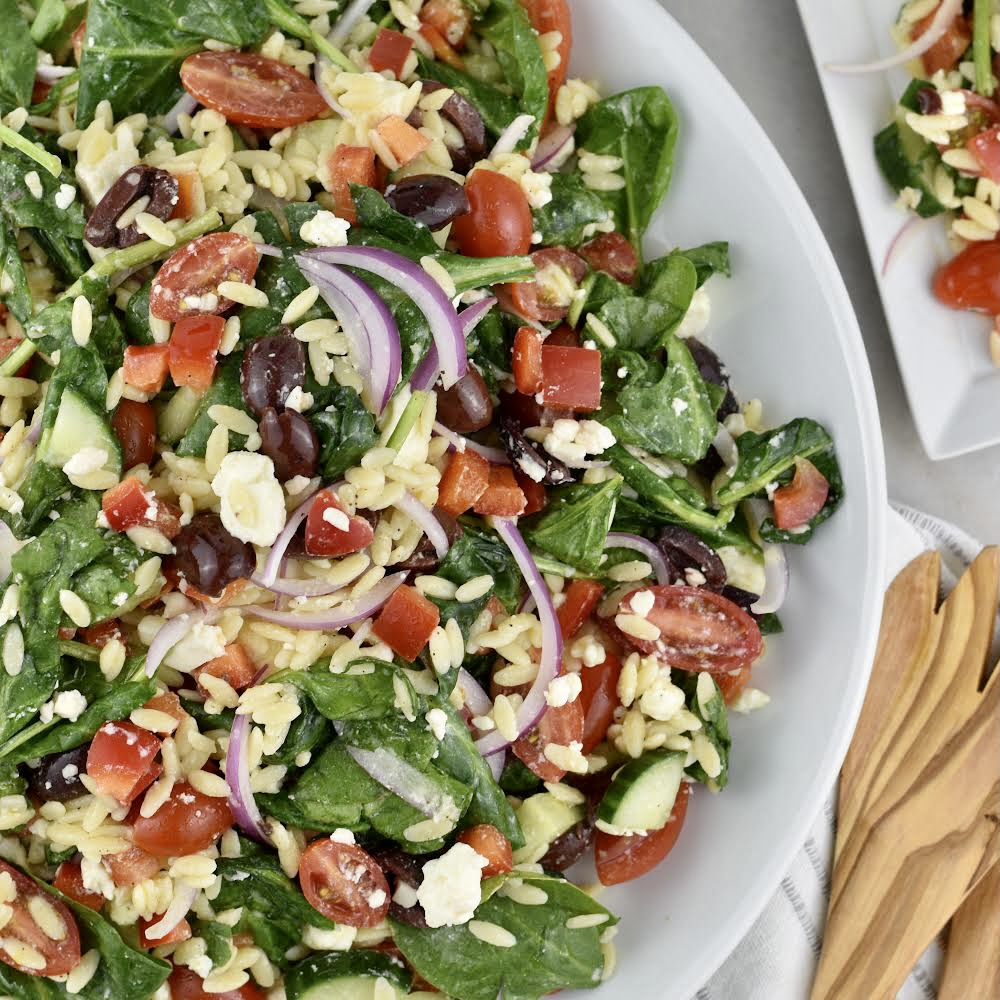 2 cloves garlic

½ cup olive oil

1 lemon

¾ tsp kosher salt

¼ tsp black pepper

9 oz spinach

1 red bell pepper

1 cup cherry tomatoes

½ medium onion

½ english cucumber

1 cup feta cheese

1 cup kalamata olives

water

1 ½ cup orzo
Greek Orzo Salad
Hi Chefs, Myka here 👋

Greek cuisine always piques our interest, and your new favorite Greek-inspired go-to recipe doesn't have to be complicated. Take this Greek Orzo Salad, for example. It's ready in just under 30 minutes from start to finish, and is both simple yet delicious.

First, you'll start by preparing your dressing with fresh minced garlic, lemon, and olive oil, and set it aside. Then, you'll prepare your salad with fresh ingredients like spinach, red bell pepper, and slivers of onion, before tossing in some crumbled feta cheese and kalamata olives. Lastly, you'll prepare a simple orzo, and add in your vegetables.

This dish is perfect for eating freshly prepared, or for making extra and saving in the fridge. Just remember to mix the salad again prior to serving, so all of the dressing is incorporated.

Happy cooking!
Step by Step Instructions
Step 1
To prepare the dressing, finely mince 2 cloves of garlic and place into a small bowl.
Step 2
To the bowl, add ½ cup of olive oil, the juice of 1 lemon, ¼ tsp of kosher salt and ¼ tsp of black pepper. Whisk to combine. Set aside.
Step 3
To prepare the salad, clean and rinse 9 oz of spinach and add to a large bowl. Set aside.
Step 4
Clean and dice 1 red bell pepper. Set aside.
Step 5
Clean and cut lengthwise 1 cup of cherry tomatoes. Set aside.
Step 6
Peel and slice ½ a medium onion into thin slivers. Set aside.
Step 7
Dice ½ of an English cucumber into cubes. Set aside.
Step 8
Crumble 1 cup of feta cheese and set aside.
Step 9
Take 1 cup of kalamata olives and cut lengthwise. Set aside.
Step 10
To prepare the orzo, add water to a medium saucepan and set to high heat, allowing the water to come to a rapid boil.
Step 11
Add ½ tsp of kosher salt to water.
Step 12
Once boiling, add 1 and ½ cups of orzo and stir. Allow water to return to a rapid boil.
Step 13
Cook orzo uncovered for 9 minutes, stirring occasionally.
Step 14
Once the orzo is cooked, drain the water. Drizzle olive oil over the orzo and stir to combine to prevent the orzo from sticking.
Step 15
While the orzo is hot, add to the bowl of spinach and continuously stir until the spinach begins to slightly wilt.
Step 16
Once the spinach and orzo are mixed well, and the spinach has somewhat wilted, add in the red pepper, cherry tomatoes, onion, english cucumber, feta and kalamata olives.
Step 17
Whisk the bowl of dressing again to re-blend the ingredients and pour over the orzo salad.
Step 18
Mix well to combine. Salad can be stored in the refrigerator until ready to serve.

Note: When ready to eat, be sure to mix the salad again prior to serving to incorporate any dressing that has settled.
 Myka, also known as "My Kitchen Assistant," is a voice-enabled recipe builder which allows you to effortlessly follow and create recipes. You can read more about Myka's story by clicking here.