Learn how to make an authentic French onion soup recipe using the voice-enabled recipe builder app


Introduction
About French Onion Soup Recipe
By: Sous Chef Myka
Looking for a French onion soup recipe? You've come to the right place! This classic soup is packed with flavor, and it's surprisingly easy to make. Let the soup cook for about 2 hour, then ladle it into bowls and top with shredded Gruyere cheese and a piece of toast. Enjoy!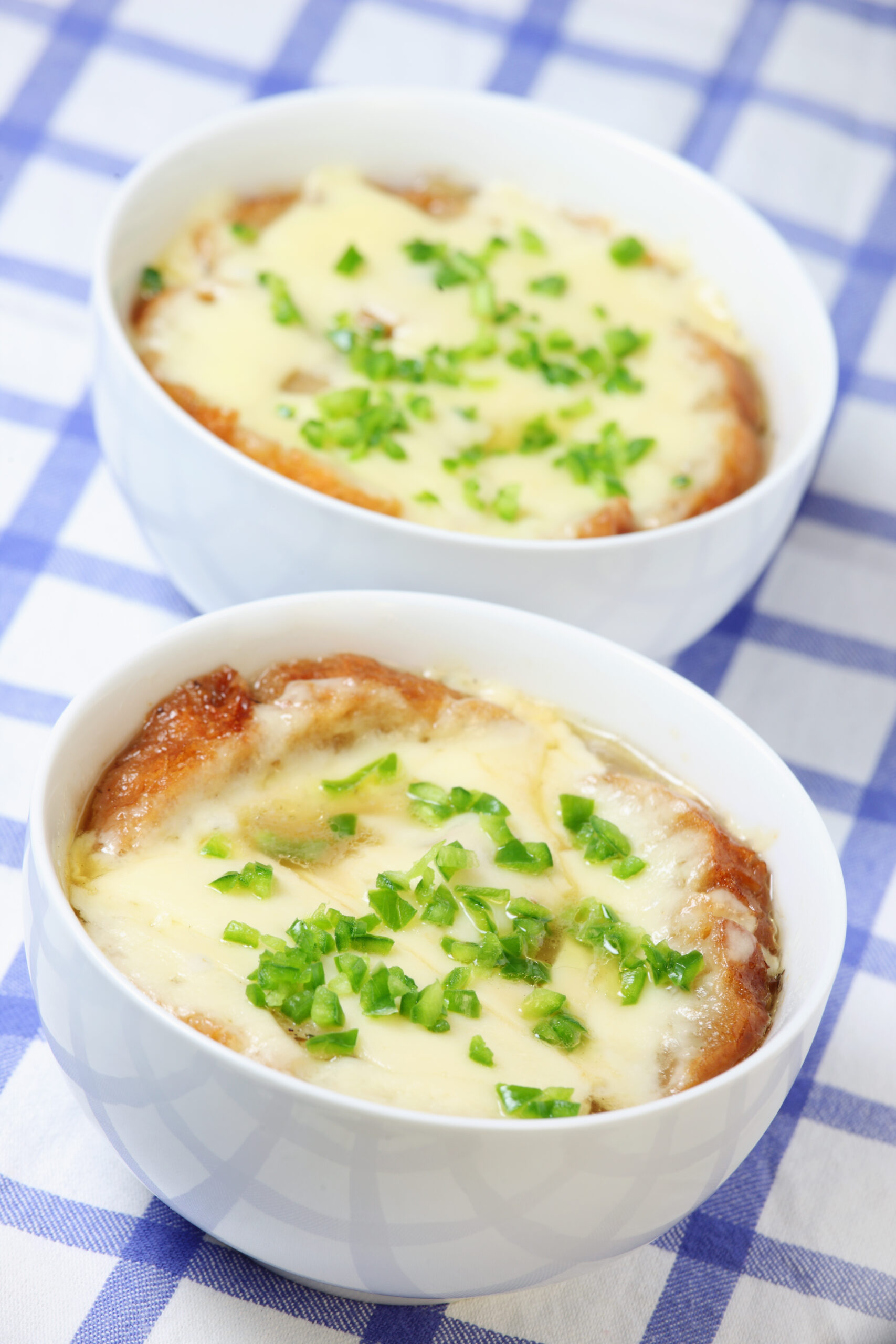 6 Yellow Onions
4 Tbsp Butter
1 Tbsp Olive Oil
1 Tsp Salt
½ Baguette
3 Tbsp Cognac
1 Cup Red Wine
6 Cups Beef Stock
2 Bay Leaves
6 Sprigs Fresh Thyme
Black Pepper
4 Oz Gruyere Cheese
4 Oz Swiss Cheese
How to the cook the best French onion recipe
French onion soup is a classic dish that is perfect for chilly weather. The soup is made by slowly cooking onions in butter and beef broth, then adding garlic, thyme, and a splash of white wine. The result is a rich and flavorful soup that is perfect for dunking a crusty piece of bread. While French onion soup can be tricky to make, the effort is well worth it. For a truly indulgent meal, top the soup with a thick slice of Gruyere cheese and bake until bubbly. Bon appetite!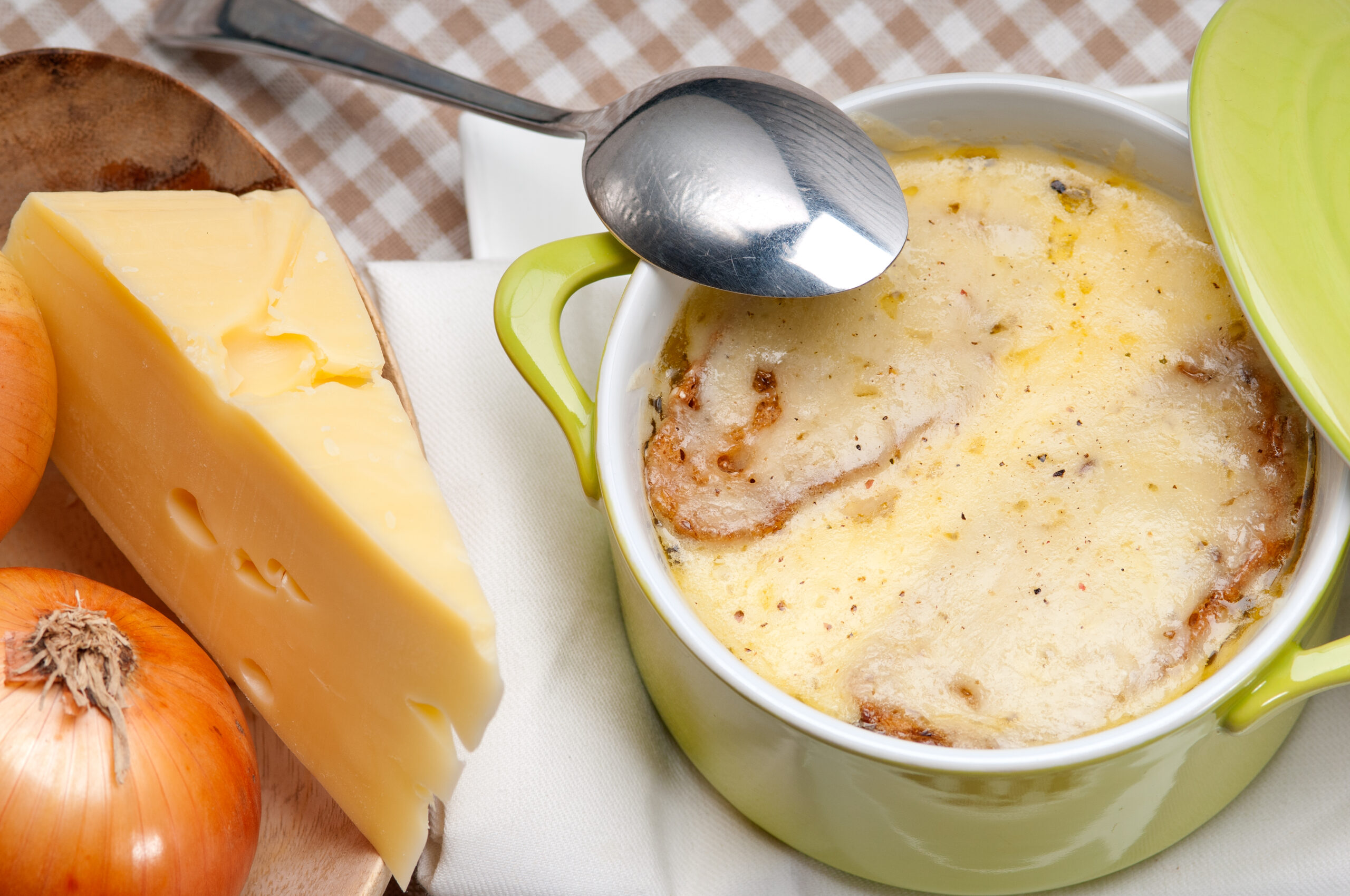 Step by Step Instructions
Step 1
Slice 6 large yellow onions into ⅛" thick slices.
Step 2
In a large stainless steel saucepan, melt 4 tablespoons of butter over medium-high heat until foaming. Add sliced onions and drizzle with 1 tablespoon of olive oil and 1 teaspoon of salt.
Step 3
Stir the onions frequently until translucent, about 8 minutes. Then lower the heat to medium-low and continue stirring occasionally until the onions are a dark golden brown color, approximately 1 hour.
Step 4
In the meantime, slice ½ of a baguette into ½" thick croutons, drizzle with olive oil and toast until golden brown.
You can skip this step and use prepackaged croutons.
Step 5
When the onions have caramelized, deglaze the pan with 3 tablespoons of cognac, scraping up the fond on the bottom of the pan and incorporating into the onions.
Step 6
Add 1 cup of red wine and 6 cups of beef stock to the pan.
Note: Homemade beef stock greatly improves the flavor.
Step 7
Add 2 bay leaves and 6 sprigs of fresh thyme and bring to a boil.
Step 8
Reduce the heat and simmer uncovered until the liquid has slightly reduced. Season to taste with salt and freshly ground black pepper.
Step 9
While the soup is reducing, grate 4 ounces of gruyere cheese and 4 ounces of swiss cheese and mix together. Set aside.
Step 10
When the soup has reduced to a thicker consistency, remove the bay leaves and thyme.
Step 11
Set the oven to broil on high.
Step 12
Ladle the soup into broiler proof bowls. Float the croutons on top of each bowl and cover with the grated cheese.
Step 13
Broil until the cheese is melted, bubbly and browned in spots. Serve immediately.
Dietary Fiber

100%

100%

Sugar

100%

100%

Saturated Fat

100%

100%

Protein

100%

100%

Sodium

100%

100%

Cholesterol

100%

100%

Vitamin A

100%

100%

Vitamin C

100%

100%

Calcium

100%

100%

Iron

100%

100%