Cuban Sandwich inspired Stuffed Peppers Recipe
Learn how to make a Cuban sandwich inspired stuffed peppers recipe with the voice-activated cookbook iPhone app


Introduction
About Cuban Sandwich inspired Stuffed Peppers
 By: Sous Chef Myka
Peppers are fun to load up with all of your favorite toppings. These Cuban-inspired stuffed peppers are the perfect meal for any time of day. Whether you're looking for something new to try or just want an easy dinner option, these peppers will hit the spot. So dig in and enjoy!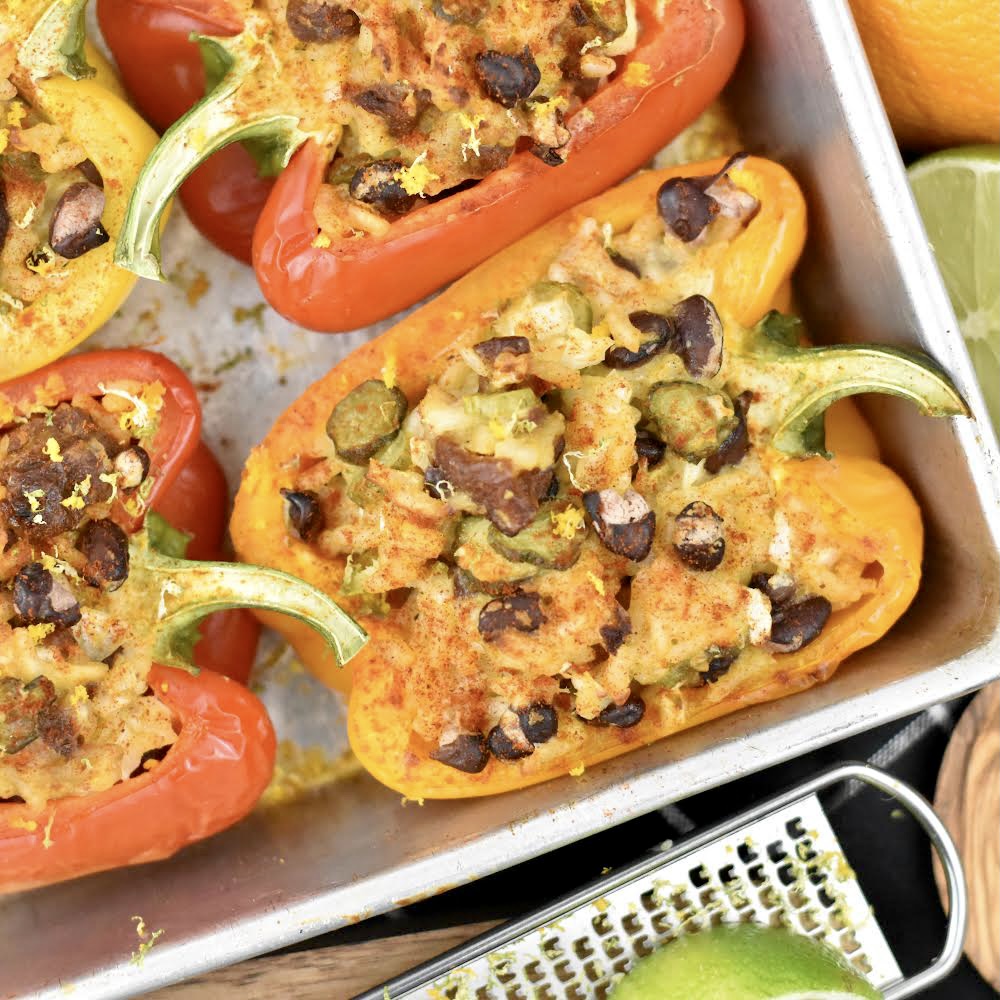 2 Lbs Pork Belly

1 Orange

2 Limes

¼ Cup Yellow Mustard

¼ Tsp Ground Cumin

¼ Tsp Dried Oregano

¼ Tsp Smoked Paprika

2 Garlic Cloves

1 Tbsp Sugar

1 Medium White Onion

2 Cups Chicken Broth

1 Tbsp Butter

1 Cup Arborio Rice

White Wine

¾ Cup Swiss Cheese

1 Cup Dill Pickles

1 Can Black Beans

Salt

6 Bell Peppers

Lemon Zest

Orange Zest
How to make Cuban sandwich inspired stuffed Peppers
Do you love Cuban sandwiches? If so, you're going to love this recipe for stuffed peppers inspired by the flavors of the popular sandwich. Stuffing peppers with a mix of meats, cheeses, and vegetables is a great way to get a delicious and satisfying meal without spending a lot of time in the kitchen. So go ahead and give this recipe a try – we promise you won't be disappointed!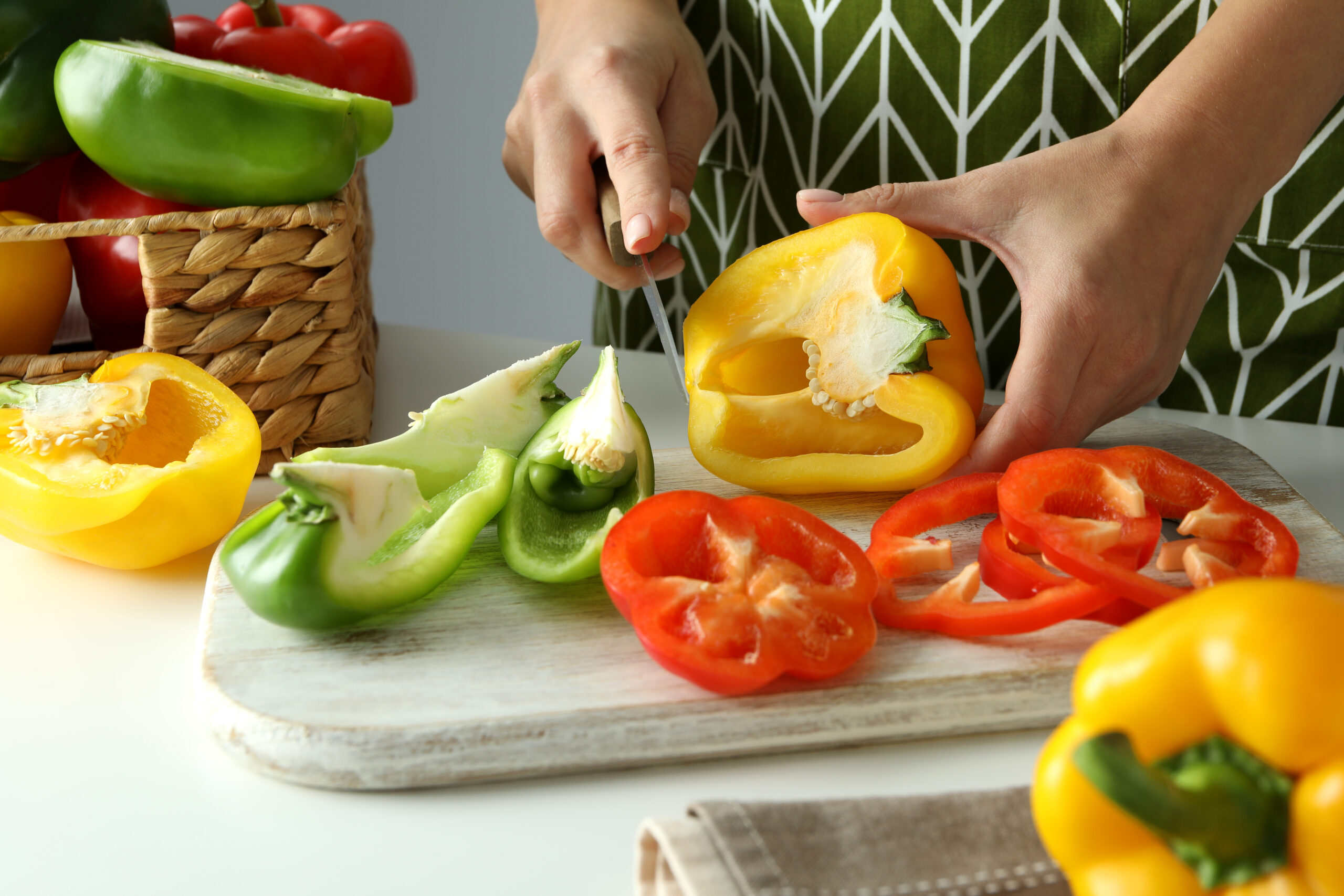 Step by Step Instructions
Step 1
Take 2 pounds of pork belly with the skin on and dice into half inch pieces.
Step 2
Heat a large sided skillet or wok over medium heat. Add the pork belly and cook, stirring and shaking pan often until the fat begins to render.
Step 3
While the pork belly is cooking, in a medium mixing bowl, add the juice of 1 orange and 2 limes.
Step 4
To the same mixing bowl, add ¼ cup of yellow mustard, ¼ teaspoon of ground cumin, ¼ teaspoon of dried oregano and ¼ teaspoon of smoked paprika.
Step 5
Finely mince 2 cloves of garlic and add to the mixing bowl. Mix well to combine. Set aside.
Step 6
When the pork belly has been fried to a golden brown color, approximately 20 minutes, pour off the fat and add 1 tablespoon of sugar. Stir to incorporate into the pork belly.
Step 7
Add the mustard sauce and toss until evenly coated. Reduce the heat to low and continue to stir occasionally.
Step 8
Heat oven to 450℉.
Step 9
Finely dice 1 medium white onion and set aside.
Step 10
In a small saucepan over medium heat, add 2 cups of chicken broth.
Step 11
Set an instant pot to the saute function and add 1 tablespoon of butter to melt. Then add half of the diced onion and cook until soft.
Step 12
Once the onions are translucent, add 1 cup of arborio rice and stir until toasted. About 2 minutes.
Step 13
Deglaze the pot with white wine and cook until most of the wine is absorbed.
Step 14
Add the warm chicken broth and place the lid on the instant pot. Set to Manual High and set the time for 8 minutes.
Step 15
While the rice is cooking, finely grate ¾ cup of swiss cheese and set aside.
Step 16
Drain and rinse 1 can of black beans and set aside.
Step 17
When the rice has finished cooking, release the steam and transfer to a large mixing bowl. Add the swiss cheese and stir well to combine. Season to taste with salt.
Step 18
Slice 1 cup of dill pickles into thin disks. Set aside.
Step 19
To the rice, add the pork belly, the remaining diced onion, the pickles and the black beans. Stir to combine.
Step 20
Slice 6 bell peppers in half, lengthwise, and remove any ribs or seeds from the inside.
Step 21
Place the peppers on a baking pan and generously stuff with the mixture. Top with smoked paprika and roast in the oven for 10-15 minutes.
Step 21
Garnish each pepper with lemon zest and orange zest and serve immediately.
Cuban Sandwich inspired Stuffed Peppers
Saturated Fat

100%

100%

Mono fat

100%

100%

Poly Fat

100%

100%

Protein

100%

100%

Calcium

100%

100%

Iron

100%

100%

Cholesterol

100%

100%