Learn how to make this Candied Jalapeño Relish recipe with the voice-activated cookbook iPhone app, Myka.


Introduction
Candied Jalapeño Relish
By: Sous Chef Myka
Sweet, spicy, and tangy, this Candied Jalapeño Relish is about to become your new go-to. Sure, it's perfect for heaping on hot dogs and burgers, but it's also excellent for spicing up salads and sandwiches, and pairs perfectly with your favorite cheese. Did we mention it's shelf stable?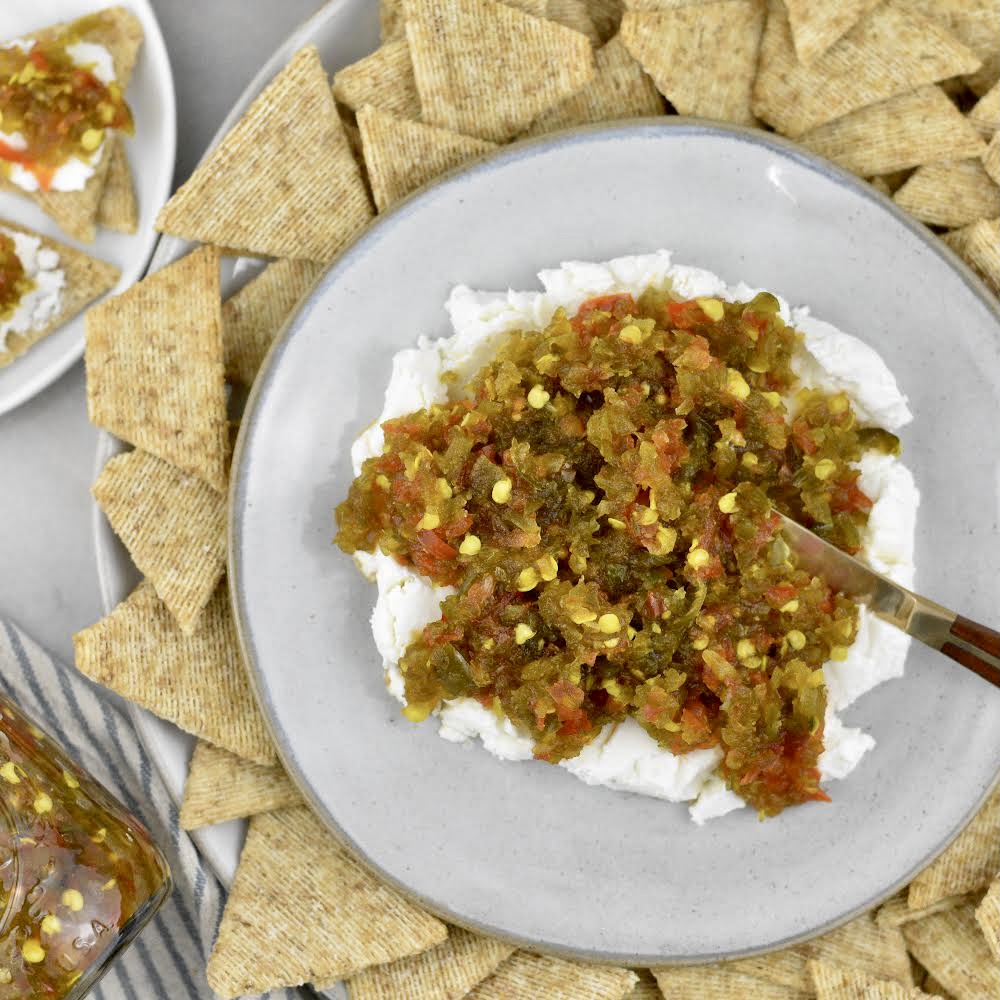 3 lb jalapeños

2 red bell peppers

2 cups apple cider vinegar

5 cups white sugar

1 cup brown sugar

3 tsp. Granulated garlic

1 tsp. Smoked paprika

1 tsp. Mustard seed

½ tsp. Ground ginger

½ tsp. Ground turmeric

water
How to make Candied Jalapeño Relish
Hi Chefs, Myka here 👋

Today is a great day for spicing things up with this Candied Jalapeño Relish, don't you think? Prepped and cooked in just over a half-hour, this Candied Jalapeño Relish features a few star ingredients, like red bell peppers, apple cider vinegar, smoked paprika, and of course, crisp jalapeños.

To prepare this recipe, you'll process the jalapeños and red bell peppers, before simmering some apple cider vinegar, sugar and spices. After transferring your peppers to jars, you'll keep simmering and reducing your liquid until it's a thick syrup. Simply pour that over your pepper mixture, and you're good to go.

(Psst… we include further instructions if you're interested in making this shelf stable.)
Happy cooking!
Step by Step Instructions
Step 1
Clean and slice the tops off 3 pounds of jalapeños.
Step 2
Working in batches, add the jalapeños to a food processor and pulse until finely chopped. Transfer the jalapeños to a large bowl and set aside.
Step 3
Clean and remove the stems and seeds from 2 red bell peppers. Add them to the food processor and pulse until finely chopped. Transfer to the bowl of chopped jalapeños.
Step 4
In a large pot, set over high heat, add 2 cups of apple cider vinegar.
Step 5
To the pot, add 5 cups of white sugar and 1 cup of brown sugar.
Step 6
To the pot, add 3 teaspoons of granulated garlic, 1 teaspoon of smoked paprika, 1 teaspoon of mustard seed, ½ teaspoon of ground ginger and ½ teaspoon of ground turmeric. Bring to a boil.
Step 7
Once boiling, reduce the heat and simmer for 5 minutes.

Step 8
After 5 minutes, increase the heat to high and transfer all of the peppers into the pot.

Step 9
Bring to a hard boil and then reduce back to a simmer for 4 minutes.
Step 10
Using a slotted spoon, transfer the peppers to clean and sterile canning jars. Fill the jars with the relish, leaving approximately ¼" of room from the top of the jar.
Step 11
Turn the heat back to high and bring the syrup remnants to a rolling boil.

Step 12
Boil for 10-12 minutes until the syrup has significantly reduced and thickened.
Step 13
Pour the syrup into the jars of jalapeños.

Step 14
Insert a knife or chopstick to release any trapped pockets of air and to encourage the syrup to fill the voids between the relish.

Step 15
Wipe the rims of the jars with a paper towel and close the lid's finger tight.

Note: At this stage, the candied jalapeños relish can be stored in the refrigerator. If you wish to make it shelf stable, proceed with the next steps of the recipe.


Step 16
Place a cooling rack inside a large pot.


Step 17
Set the jars of relish on the rack inside the pot.


Step 18
Cover the jars with water so they are fully submerged by at least two inches of water.


Step 19
Bring the water to a boil and allow to boil for 15 minutes.


Step 20
After 15 minutes, using tongs, remove the jars to cool. Leave them undisturbed for 24 hours.